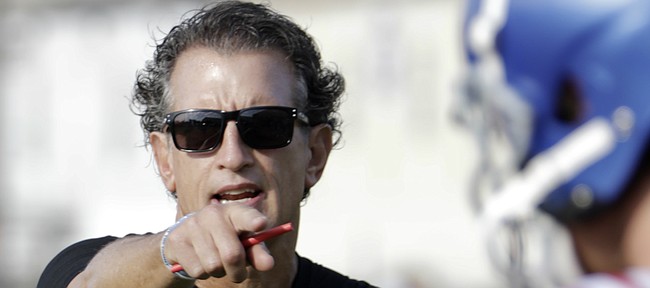 Coaching is all about assessing the personnel you have and figuring out how to bring out the best in it. It's not about trying to make the athletes fit the preferred style of the coach.
Credit first-year Kansas offensive coordinator Doug Meacham for quickly recognizing his old way of doing business doesn't quite fit the talent he inherited at Kansas, so he's changing the way things were done at Oklahoma State, Houston and TCU to fit the team he now coaches.
In short, Meacham is tapping the brakes on an offense that couldn't handle flooring it very well.
"I don't know if we're a great tempo team," Meacham said. "I don't know."
Which means he knows and he's doing something about it.
"Some of the stuff that's been fairly effective in my career has not been as (effective at Kansas)," Meacham said. "I think it might just be the youth part of it."
Youth and the depth of talent.
So stick with it and hope the players adapt?
"I don't think so," Meacham said. "I don't think so. I think I'd rather them see a little bit, rather than us trying to fool them with speed. Our normal tempo is not super slow. It's OK. Probably a little bit more that, I think."
Podcast episode
On this episode of the KU Sports Hour, hosted by KU football beat writer Benton Smith, the KUsports.com staff discusses KU football's 45-27 loss to Central Michigan. Topics include: Is KU better than last year? (0:55-17:30), are lineup changes coming? (17:30-27:40), the KUsports.com football mailbag — coaches on the hot ...
As he talked, hurry-up-and-flop plays popped into my head and then he said it himself.
"We burned some plays on super-fast plays and just haven't hit any of them," he said. "Everywhere I've ever been, those plays are pretty good, but our job is to figure out what we can and can't do as we go. Right now, I don't feel like we're great at that."
This isn't the first time a coach in charge of KU's offense has been willing to say what he thought would work isn't cutting it. The switch is just more subtle this time and quicker in coming.
In the middle of his second season at KU, Charlie Weis, never quite the know-it-all some perceived him to be, basically acknowledged that the college game had passed him by, the spread offense was the way to go and he wasn't equipped to teach it.
After David Beaty's first season as head coach, he took over play-calling from Rob Likens and demoted the offensive coordinator to walk-around guy until he recruited Meacham from TCU.
Given the talent, tugging on the tempo reins a touch might amount to rearranging the deck chairs on the Titanic, but it's worth a try.
Even if it can't help a ton, it certainly can't hurt. At the very least, trimming a few hurry-up-and-flop downs per game will make the offense more efficient. It also might give the defense more rest.