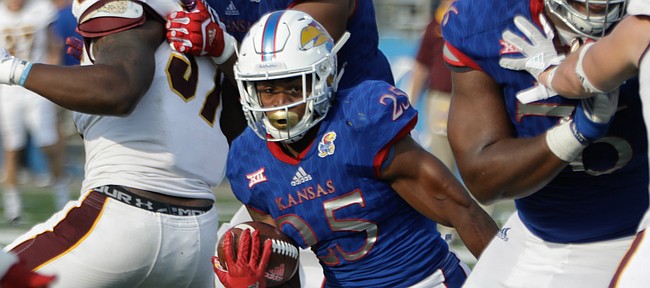 No quarterback in Kansas football history ever had attempted as many throws in one game as Peyton Bender did Saturday in a 45-27 loss to Central Michigan. And if head coach David Beaty has it his way, Bender's new mark will stand alone atop the record book well into the distant future.
"We threw it 62 times. That's a lot of times to throw the football," Beaty said after Bender topped David Jaynes' total of 58, a number that held up for nearly 44 years. "A lot. We've got to get more balanced there."
A junior transfer who played previously at Washington State and Itawamba Community College (Miss.), Bender's 32 completions tied him for eighth in KU history, with a Todd Reesing outing against Louisiana Tech in Week 2 of 2008. On that particular Saturday, one of Beaty's first as a receivers coach on Mark Mangino's staff, the defending Orange Bowl champions ran the ball 33 times and Reesing only had six incompletions to go with three touchdowns.
Against Central Michigan (2-0), Beaty saw 30 of Bender's passes fall incomplete, with two intercepted and no scores through the air to show for it. In the meantime, Kansas only ran the ball 34 times.
"We don't want to throw the ball that much over running it," Beaty said after praising CMU for its 35-carry, 37-pass balance, bolstered by Shane Morris' 467-yard, five-TD passing day.
After KU only netted 73 rushing yards in a Week 1 against FCS opponent Southeast Missouri State, Beaty said he wasn't too concerned with the output, and offensive coordinator Doug Meacham agreed.
While running backs Deron Thompson, Dom Williams and Khalil Herbert contributed to the Jayhawks (1-1) improved rushing total of 147 yards versus CMU, Beaty would have preferred seeing more from the rushing attack, which averaged 5.1 yards per carry in the second half, during the entirety of what became a missed opportunity to attain a rare KU victory.
"It wasn't until later in the game that I thought we really started effectively running the ball well," Beaty said. "That was good to see as we started picking it up, but not good enough to get in the end zone."
Thompson, a 5-foot-9 junior transfer from Wichita who played his first two seasons at Colorado State, started at running back for KU with junior Taylor Martin injured and sophomore Khalil Herbert apparently behind both Thompson and true freshman Williams in the coaches' minds.
While Thompson, the former Wichita Northwest standout, rushed for 48 yards on 10 carries, Williams led the way with 64 yards and two touchdowns on 18 attempts. Herbert carried twice for six yards, while the rushing attack benefited from a 33-yard receiver reverse TD by Ryan Schadler and a 13-yard carry by receiver Quan Hampton, as well.
Thompson said the running backs wanted to make more of an impact within the Air Raid offense in Week 2, even with Martin unavailable and an injury scare for Williams leading up to the CMU game.
"We're ready for next guy up. We knew we were going to have to carry the load, me and Dom, or even if Dom hadn't been able to go it would've been me and Khalil," Thompson said. "Just whoever they plug in."
Upon hearing Beaty's postgame declaration that the offense needed to keep its play-calling less one-sided, Thompson felt encouraged.
"Us being running backs, we don't want to seem biased or anything, but of course we want to run the ball more. We want a balanced offense," Thompson said. "We feel like we want to be more involved — nothing against anybody or trying to insinuate anything — just us as running backs, we feel like we can help this team a lot. We can propel this offense to a whole other level. We just feel like if the run game is going and the pass game is going we're going to be hard to contend with. That's the reason we want the run game to do a little bit more, because of how much of a threat we'd be as an offense. I mean, we've got play-makers all over the field."
---
More news and notes from Kansas vs. Central Michigan
---