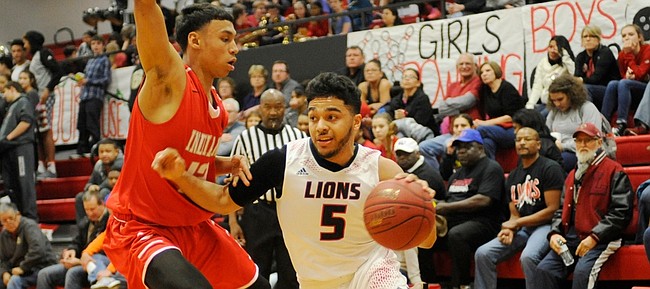 The game was scheduled long before anyone knew it would matter. And the intensity of the matchup has only started to sink in during the past couple of weeks.
Tuesday night, when the Toledo Rockets come to Lawrence to take on third-ranked and unbeaten Kansas, the Roberts family will be in quite a pickle.
Justin Roberts, Toledo's sophomore reserve guard who starred for four seasons at Lawrence High and is oh-so-familiar with the KU program and its players, will be facing his father for the first time in his life. His older brother, Niko, was a walk-on at KU from 2010-14.
Norm Roberts, KU's veteran assistant coach responsible for helping prepare the Jayhawks to annihilate opponents, will be asking his Kansas players to attack his son.
While Roberts men on both sides of the battle have said they will try to treat this one — 7 p.m. Tuesday at Allen Fieldhouse — just like any other game, the fact of the matter is, it won't be. Not even close.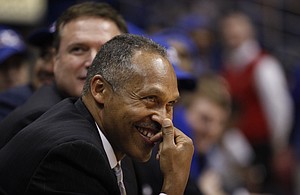 "We've kind of tried to avoid it," Justin told the Journal-World when asked about the banter between father and son during recent weeks. "But there've been times where we kind of talk about it and joke about it and give each other crap and just talk a little trash. I mean, I've never played against my dad before, so that'll be a cool thing. But we're definitely taking it very serious and we're not joking about it any more. It's a big game."
For Justin, taking on the Jayhawks during a real game goes beyond squaring off against his father. Tuesday's clash also represents a chance to live out a childhood dream.
"I'm definitely excited for the opportunity," he said. "I mean, I've always dreamed about playing at Allen Fieldhouse. Being at every home game (growing up) was kind of like a tease for me. But now that I get to actually play there, it's going to be a crazy experience and I'm excited for it."
Although the Roberts reunion makes for a good storyline, the game itself was scheduled well before anyone knew it was possible. It also played just a small role in Justin deciding to attend Toledo after his stellar run at Lawrence High, where he earned all-state honors and left as the school's all-time leading scorer.
In fact, it was during a KU-Toledo game a few years ago when Justin first saw the Rockets play and entertained the idea of visiting the school.
Now in his third season with TU (3-2), Roberts has played in four of the team's first five games and is averaging 7.5 minutes per game.
"Right now, I'm just playing reserve minutes and trying to do all the little things," he said. "I'm not a big scorer, I'm mostly a defender and I'm trying to guard whoever I can and just do the little things right now."
While that might not mean big minutes on Tuesday, his familiarity with the Kansas roster could help tremendously during Toledo's preparation for the game. As recently as this summer, Roberts was back in Lawrence working out with the KU players and participating in Bill Self basketball camps and pickup games.
"I talked to Devonté (Graham) and Lagerald (Vick) about the game a little bit," Justin said. "But we all just kind of laughed about it and said, 'Yeah, I can't wait for that one.' These are obviously some of the best guards in the country. I know especially how good they are and how well they can play. But we've got some talented guards here and we feel like we can compete with them."
Whether Toledo does, and no matter how long Justin is a part of it, the lifelong coach's son does not expect any charity from his father.
"He's going to do what he has to do," Justin said with a laugh. "He's a coach and he has to do the scouting report on everybody and he can't show any mercy on me just because I'm his son."
As for his mother, Pascale, the entire ordeal has been tough for her, and Justin said she has been dreading the matchup for weeks.
"She's nervous," Justin joked. "She doesn't know if she wants to wear a shirt with both Toledo and Kansas on it or which one she wants to go with."
Justin, however, knows exactly what he wants. And it has nothing to do with which colors his mom is wearing.
"We know how difficult it's going to be," he said. "Without even watching a game, you hear about how special it is to play at Allen Fieldhouse and how hard it is in there. But we're just going to show up and play our hardest and see how it plays out."