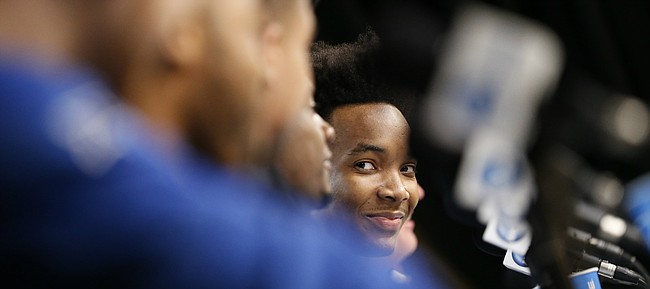 Kansas City, Mo. — It was more of a fireside chat than an interrogation, but it carried with it one of the most important messages the Kansas men's basketball team heard all season.
In the days between their unexpected Big 12 tournament loss to TCU in early March and a 38-point, opening-round NCAA Tournament victory over UC Davis last week in Tulsa, Okla., the Jayhawks casually discussed a strategy that would become the focal point for their current run.
No one knew at the time that it would lead to three consecutive blowout victories and make Kansas the first team since UConn in 1995 to top 90 points in three consecutive NCAA Tournament games, but, to a man, the Jayhawks seemed to clearly understand that their season-long trend of playing tight games down to the wire would not cut it in the Big Dance.

Photo Gallery
Kansas and Oregon players and coaches press conferences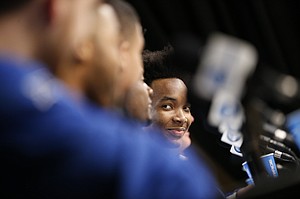 Players and coaches from both the University of Kansas and the University of Oregon met with media members on Friday before Saturday's Elite Eight matchup.
"Everybody talked. It was a team thing," said KU freshman Josh Jackson. "We all agreed. We do a good job of getting teams down, but the thing that we weren't good at before the tournament was trying to keep the other team down and just close out the game. That was one of the things we talked about that we really wanted to focus on. Everybody saw us have close games this year, and I think that really helped us coming into this tournament. We talked about how we didn't want to do that with this tournament because it could all end just like that."
So they haven't. Even as their opponents have gotten tougher and tougher as the Jayhawks have advanced, the result has remained more or less the same for top-seeded Kansas, which will take on No. 3 seed Oregon (32-5) at 7:49 tonight at Sprint Center with a spot in the Final Four on the line.
First came a 38-point rout of UC Davis on St. Patrick's Day and the Jayhawks followed that up with a 20-point pounding of Michigan State in the second round. That set the stage for Thursday's 32-point impressive pasting of Purdue, the No. 15-ranked team in the country. That path has taken Kansas (31-4) to the point that every team dreams of when the college basketball season begins each October — 40 minutes from the Final Four.
According to Jackson, the Jayhawks' sudden change was not the result of Kansas simply deciding to flip a switch. Flipping a switch, Jackson said, was what happened at the end of the West Virginia or Oklahoma games at home when KU came back from late double-digit deficits to win. What the Jayhawks have done is March is change their philosophy without changing who they are or how they play.
"I would say that we're taking every possession very seriously," said KU senior Landen Lucas. "During the regular season, you would like to do that, but it's kind of tough. This postseason you've seen our team go out there very focused. Other teams are, too, but eventually it's just wearing down on them. We showed spurts of that during the season, but now we're putting together a full game."
And the timing could not be more perfect. KU coach Bill Self has said that none of KU's first three NCAA Tournament victories were as easy nor as impressive as the final scores indicated. The Jayhawks have made mistakes. They've missed shots, turned the ball over and battled foul trouble. And in at least two of the three wins, they even took a while to get going. But once they did, their gauge quickly ran from room temperature to boiling and there was precious little that their foes could do about it.
Pac-12 champion Oregon, a 69-68 winner over Michigan in the Sweet 16, is the next team to get a shot at red-hot Kansas. And, in many ways, the Ducks may be as well-equipped as anybody to match-up. Both Self and Oregon coach Dana Altman said the two teams had plenty of similarities — from style of play and personnel to the motivation of losing in the Elite Eight a season ago — and both teams feature a lineup full of athletes who like to run and won't be afraid of Saturday's stage.
For Altman, it marks the second time in his head coaching career that he has reached this point. Altman also experienced the Elite Eight back in 1988 as an assistant at Kansas State, but came up on the losing end of a showdown with Danny Manning and Kansas.
For Self, Saturday's Elite Eight will be the ninth of his career — one at Tulsa, one at Illinois and seven at Kansas — and the 2017 Hall of Fame nominee has had more bad memories in this round than positive.
"I think it's the hardest game in the tournament," said Self, who takes a 2-6 Elite Eight record into Saturday. "We haven't experienced very much success to date in this game (and) it's a hard game because there's so much emphasis on the road to the Final Four. It's almost like the Final Four could be the equivalent of the national championship 30 years ago, with the type of intensity and the type of publicity that it gets."
Because of that, Self spent the past two days telling his team that this game is not about his past, last year's loss to Villanova in the same round or even what's ahead. Instead, it's about Kansas and Oregon and the top-seeded Jayhawks being two halves from fulfilling a dream.
"The biggest thing is just go play," Self said. "Don't play the game like you've got to win to go to the Final Four. Play the game like you've got to go compete because you have a chance to win a regional championship. (Don't) look ahead. Look in the moment and enjoy the moment."
Added junior guard Devonte' Graham: "It was tough trying to get over that (Villanova loss). But we're back and we're just excited to be able to play in this Elite Eight game again and possibly make it to the Final Four."
---
More news and notes previewing Kansas vs. Oregon
---