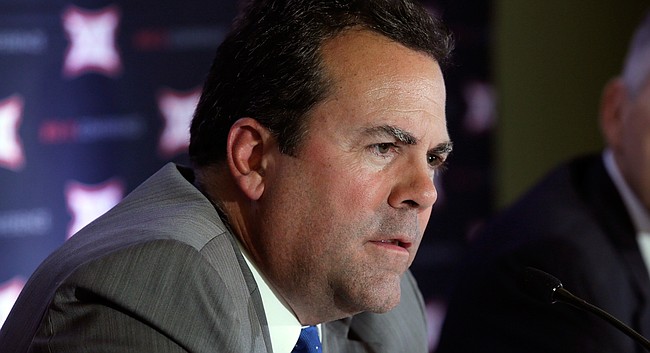 Kansas Athletics officials said Tuesday they want to meet with the father of a KU women's basketball player who alleges she has been mistreated by the university, but the father thus far has not agreed to a meeting.
Tim Calvert, the father of KU sophomore women's basketball player McKenzie Calvert, has made an increasing number of public allegations that his daughter has been treated unfairly after she reported that star men's basketball player Josh Jackson vandalized her car in a December incident at a Lawrence bar.
KU Athletic Director Sheahon Zenger broke his silence on the matter Tuesday, expressing support for how KU men's basketball coach Bill Self handled the matter, and expressed disappointment that Tim Calvert continues to make allegations without meeting with KU Athletics officials.
"To this point, I've been asked to be measured in my comments," Zenger said early Tuesday evening. "But considering recent public comments I feel it's necessary for me to now speak publicly myself. In light of that, I want to reiterate the few points about disciplinary processes in Kansas Athletics."
According to Zenger, KU, through written correspondence, reached out last week to Tim Calvert in an attempt to set up a meeting to discuss his concerns.
"We've extended an invitation to Mr. Calvert to meet with me," Zenger said. "He's chosen to delay that meeting and yet one-sided articles continue to appear as we're trying to get that meeting."
Zenger also said that McKenzie Calvert has not signed a release form that would allow the university to more fully discuss her concerns.
"If a parent of a student-athlete insists on having public conversations about internal discipline, we would be happy to have that conversation if the student-athlete signs the FERPA waiver that allows us to discuss the student-athlete's full disciplinary history. At that point, we'd welcome the conversation."
FERPA, or the Family Educational Rights and Privacy Act, is a federal law designed to protect the privacy of student education records. According to Zenger, KU athletes are required to sign a waiver before any disciplinary measures can be discussed with a parent or guardian.
Tim and McKenzie Calvert both have publicly expressed concerns that McKenzie Calvert's discipline following the December incident at The Yacht Club was more severe than any punishment Jackson received. Calvert has said she threw a drink in the face of KU basketball player Lagerald Vick. She alleges Jackson became involved in the dispute and began kicking her car as she tried to leave the bar's parking lot. Jackson has been charged in Douglas County District Court with one count of criminal damage to property.
Reached by the Journal-World via telephone Tuesday, Tim Calvert said his attorney received the invitation from KU Athletics but was unable to schedule a meeting.
"They were asking for a commitment to a date and time," Tim Calvert said. "And, at that time, I could not do that. I was not home. Thursday was my travel day back home. I was in Minneapolis, my wife was in Texas and my daughter, of course, was in Kansas, so we couldn't discuss anything. So I asked that we be given a chance to get together and discuss that letter."
A Kansas Athletics official said that KU did ask for a response within 24 hours but did not request that a meeting take place during that time. The same official said Tim Calvert requested to revisit the issue after KU's spring break (March 20-26) and KU agreed.
Asked if he was encouraged to hear from Zenger, Calvert said he was "a bit surprised by it."
"It was the first time that happened," he said.
Asked if he thought the two sides eventually would meet, Mr. Calvert said, "I suppose that meeting will happen. Spring break's coming up. I know the tournament's coming up and Dr. Zenger's going to be busy. We're open to it. I guess when it happens, it happens."
As for what he hoped would be resolved or accomplished during any dialogue between his family and Kansas Athletics, Tim Calvert said he did not know what to expect.
"At this point, I have no idea," he said. "I really don't. Because I don't know what prompted the letter for the invite for a meeting. The subject matter was not discussed or written in the letter. It was just an opportunity to meet and talk about concerns. I have no idea what the motive is. I have no idea what their goal is. We have not spoken ever... I think it's really just an exchange of concerns and ideas. I have no expectations beyond that."
Zenger, who said he "absolutely" supported the way Self handled the discipline of Jackson, said the procedures and policies for KU's athletic department fall under four main areas.
• Coaches discipline athletes regularly for a range of possible issues.
"There are rarely identical issues," Zenger said. "Each situation has unique circumstances and each coach has different disciplinary styles. In 12 years as an AD, it's never been my practice to tell someone how to coach, who to play or how to discipline."
• A student-athlete's full body of work is always considered when applying discipline.
Zenger said the department refers to this as "progressive discipline" and added that, "discipline for a first offense is often very different from that of a second or third offense."
• Kansas Athletics has an overall policy of not discussing punishments publicly.
"There's really no justification for needlessly publicly talking about a student-athlete or shaming a student-athlete, because they're students first," Zenger said. "That philosophy is the same as what is applied to the university student conduct office."
• And Kansas Athletics always asks itself if there are times when it might benefit the department to publicly discuss internal team discipline.
"These policies have been in existence for many years and they've served us well," Zenger said. "The institutional policies with how to deal with these situations are solid as well, and we depend on those."