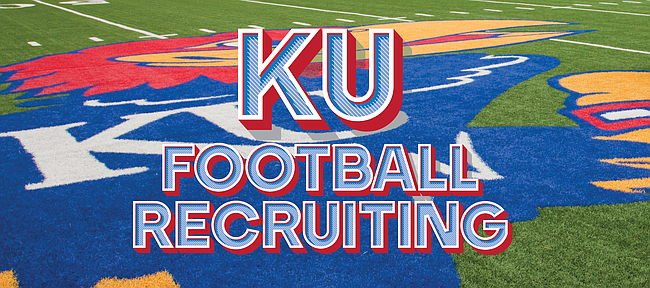 The Kansas football program received one commitment and one de-commitment on the recruiting trail Wednesday.
Offensive lineman Nick Williams, from Ritenour High in St. Louis, visited campus earlier this month and decided it was the place where he wanted to spend his collegiate career.
Williams, 6-foot-8, 260 pounds, is a three-star prospect according to Rivals.com, and ranked 13th in the state of Missouri. He chose the Jayhawks over offers from Kansas State, Minnesota, Purdue and Illinois, among others.
"There were a lot of schools recruiting me but I felt the coaches at Kansas really wanted me," Williams told Jayhawk Slant's Jon Kirby. "(Offensive line) coach (Zach) Yenser knows a lot and knows what he's talking about. I can tell from the first time he visited my school to when I went on the visit he can make me a better player."
Williams told Jayhawk Slant that he planned to visit Illinois this month, but opted to commit to Kansas when it was rescheduled, saying KU always stood out to him.
"Ever since I stepped foot on campus, it just felt right," Williams wrote on Twitter.
Earlier Wednesday, three-star Louisiana safety Aaron Brule posted on Twitter that he was re-opening his recruitment. He noted that Kansas will still be considered.
"I'd especially like to thank Coach (Tony) Hull and Coach (David) Beaty who've been completely honest and sincere with me and my family throughout this process," Brule wrote. "But I realize it is in my best interest to re-open my recruitment and get out and explore different opportunities."
Brule was one of five players committed to Kansas from Louisiana. Five-star receiver Devonta Jason, four-star cornerback Corione Harris, three-star running back Anthony Williams and three-star defensive end Josh Smith remain committed.
Nick Williams is the 13th verbal commitment in the Class 2018. He's the second offensive lineman in the class, joining Wichita Collegiate's Mac Copeland.