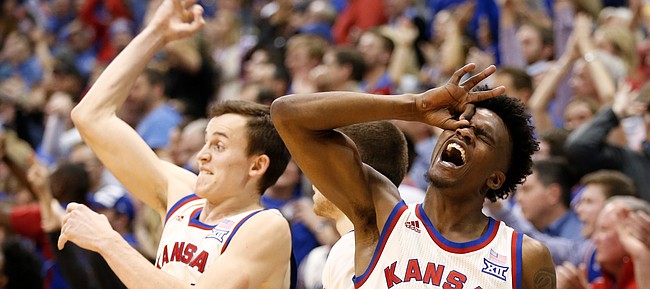 Although he said he was pleased with the work put in by his entire roster so far this summer, three names came rolling off of Bill Self's tongue first when the KU coach was asked, before practices for Italy began, which Jayhawks had stood out during summer workouts.
The first name was a repeat performer from last summer.
"I would say Lagerald as much as anybody," the Kansas coach told the Journal-World about junior-to-be Lagerald Vick, who enjoyed a breakout summer a year ago and turned that into his best season as a Jayhawk shortly thereafter. "And I'd say Mitch (Lightfoot). Mitch has looked good. Devonte (Graham has) gotten better, Malik (Newman) looks pretty good. But the two right now, to me, would probably be Mitch and Udoka (Azubuike). I think they both look pretty good."
That's good news for the Kansas front court, which will be asked to replace five-year rock Landen Lucas and freshman phenom, Josh Jackson, who despite identifying mostly as a guard played big up front for KU during his lone season in Lawrence.
With Azubuike only playing a quarter of the season due to a wrist injury and Lightfoot playing sparingly as a true freshman, there are more questions this year at the big man position than at any time in recent memory.
"We need those two to come through," Self said of Lightfoot and Azubuike. "But the one we have to have come through is (freshman) Billy Preston. Billy's so talented. He's so talented."
As for why he thought Lightfoot and Azubuike had stood out most consistently this offseason, Self pointed to opportunity.
"Mitch is more confident," he said. "And, you know, he never got a rhythm this past year, which, that happens with a lot of freshmen, kind of like Lagerald did. But he's coming. He's coming. He's starting to figure it out a little bit and nobody can ever knock his toughness. He's tough, he's active, but he's just gotta put it all together and he's showing signs."
The biggest question regarding Azubuike's return — remember, he was in the starting lineup before going down with the injury, and, at 7 feet tall, stands to make a huge impact as a second-year player — is his health.
At Self's request, the Jayhawks took it slow with Azubuike after the injury, making sure the big Nigerian was fully healed and fully rehabbed before bringing him back to full-speed action.
While that cost him a little in the stamina and conditioning department, the approach gave the KU big man more than enough time to make a fully recovery, while utilizing his mind and honing in on the cerebral side of the game during the process.
Has that plan paid off so far?
"Udoka looks great (health-wise)," Self said.
The Jayhawks will run through another practice of their 10 allowed pre-Italy practices this afternoon, and at least one player and Self will speak with the media before they hit the court.