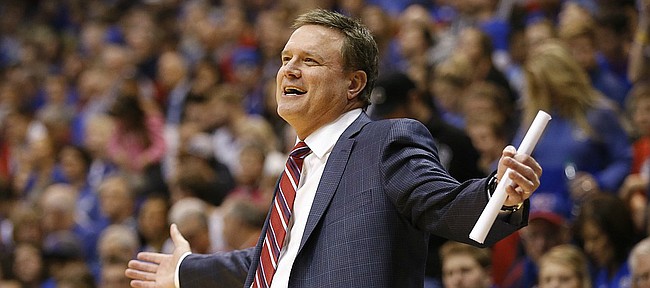 Although he showed up to discuss his team's upcoming summer trip to Italy, Kansas basketball coach Bill Self couldn't get through a media session Tuesday afternoon without the subject of the currently dead Border War coming up.
In late June, former University of Missouri chancellor R. Bowen Loftin stated in a report he thought Self was responsible for the rivalry series' current state of non-renewal in football and basketball.
Self again addressed that theory with a group of reporters at Allen Fieldhouse Tuesday.
"I'm shocked that he would think that I would be involved in a football negotiating deal to try and play a game at Arrowhead (Stadium, in Kansas City, Mo.)," Self began. "So he may have got me confused with the football coach — I don't know."
The 15th-year KU basketball coach said he feels the same way now about the state of the rivalry, which halted when Missouri left the Big 12 for the SEC in 2012.
"Nothing's changed in my regard. I'm sure there'll be a time where Kansas and Missouri will play again. I don't know when that time will be," Self said. "And people seem to think it's up to me to make that call. I mean, we have an athletic director, we have a chancellor, we have other people that are involved with that. But I do think I caught the majority of the attention initially when I said, 'They left us. We don't have to play them.'"
The Jayhawks' coach reiterated he doesn't know what will come of the Border War in the future.
"I certainly don't have any ill feelings towards our bordering state or school at all, but I'm not interested in what's best for Missouri — that doesn't interest me at all, just like they're not interested in doing what's best for Kansas," Self said. "I'm interested in doing what's best for us, and certainly I think my athletic director (Sheahon Zenger) and my new chancellor (Douglas Girod), they feel the same way. If it's best for us to play, I'm sure we'll play. But that will be a decision for more than just me."
The KU basketball team will play between July 31 and Aug. 8, in Italy.