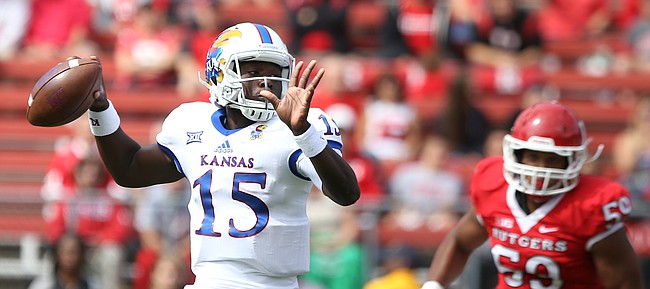 A starting quarterback briefly during his time at the University of Kansas, Deondre Ford announced Friday morning he is transferring out of the program.
Ford, who transferred to KU from Dodge City Community College before the 2015 season, didn't say where he will go next in a tweet signaling his departure, but the QB is looking for a place where he can play.
"Thankful for everything," Ford wrote on Twitter. "On to the next chapter in my life."
His post included a note with more details on his decision to continue his football career elsewhere.
"First off I just want to thank the coaches and the players at the University of Kansas for giving me a great opportunity to be (a part) of something special," Ford communicated in a screen shot. "Coach (David) Beaty has been a positive influence on my life as well as my development as a quarterback. I have decided that I will transfer from the University of Kansas as a transfer graduate and play my next two years somewhere else. I want to thank coach Beaty for giving me the opportunity to look at more options for my future. I will always be grateful for him and his staff."
In his first season with the program, Ford stepped in as KU's No. 1 QB for a start at Rutgers in 2015, when then-starter Montell Cozart was ill. However, after completing six of his 13 passes for 85 yards, with an interception, Ford suffered a thumb injury that ended up costing him the rest of the season. Because he only played in three games, he was granted a medical redshirt.
Ford didn't play a single snap for Kansas in 2016, which no doubt influenced his decision to become the second QB to leave the program this offseason — joining former starter Ryan Willis, who landed with Virginia Tech.
Kansas quarterback Carter Stanley finished this past season as the Jayhawks' starter, and even helped the team knock off Texas during his three-game stretch as the top QB.
Beaty and KU also added another quarterback to the roster for 2017. Transfer Peyton Bender is expected to compete with Stanley for the starting spot.
The quarterback room had to look pretty crowded for Ford and Willis, with Stanley and Bender at the top of the depth chart, and Cozart, Tyriek Starks and Keaton Perry in the mix, as well.
"Excited that I will be transferring from the University of Kansas," Ford later wrote in another tweet. "With two years left of eligibility. Happy about the future."
A KU spokesperson said Ford is on schedule to graduate in May, and will remain in Lawrence this semester as a student to finish up coursework on his degree, in liberal arts and sciences.
Ford completed 11 of 23 passes with one interception for KU before deciding to move on.