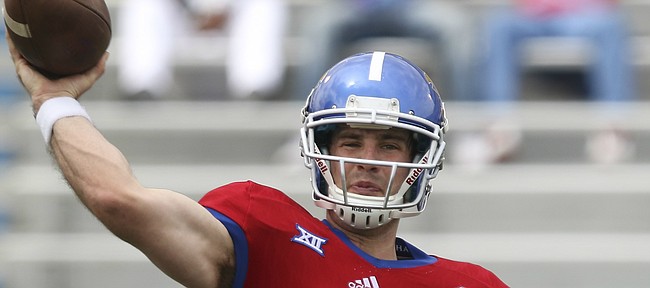 With the opening Saturday of the Kansas football season now less than a week away, either Peyton Bender or Carter Stanley will soon find out he will start at quarterback for the Jayhawks against Southeast Missouri State.
With eight months of competition in their rear-view mirrors, both Bender, a junior transfer who began his career at Washington State, and Stanley, a redshirt sophomore who started KU's final three games in 2016, have their merits. Bender is touted for his quick release, Stanley can extend plays with his mobility, and both reportedly have protected the ball amazingly well throughout preseason practices.
While head coach David Beaty and offensive coordinator Doug Meacham have kept their opinions on each QB's abilities mostly concealed, the last time Kansas players were made available to the media, each quarterback was asked what he had done in recent weeks to make his case for the starting gig.
"I think that's maybe a better question for the coaching staff," Bender began. "But like I've said before, I just go out there and I don't try to do too much. I don't try and make things happen. I just play my game and do what I'm taught: go through my reads and try to get the ball to the right guy. I just do that every day and if I can do that then I'll be able to play at a high level."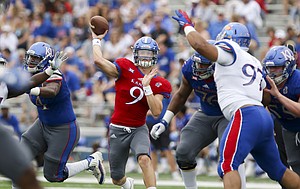 Like Bender, Stanley also declined to get into many specifics of the final stage of their race toward the No. 1 spot on the depth chart.
"I think just both of us are progressing, learning what we made, mistake-wise, maybe the day before," Stanley said. "And just being in the film room and trying not to make that same mistake again. Just moving forward and taking the next step. I think we've both done a good job of that. Coaches have done a great job of pointing it out and making it easy for us."
Assuming Beaty announces a starter at some point prior to kickoff, Bender and Stanley shortly will be through answering questions on the matter. But both stated they haven't grown tired of addressing their battle during the past several months.
"That's part of the competition," Stanley said, "and definitely just handling yourself."
Both, of course, realize how close they are to clarity on their roles for the opener and beyond.
"There's only so many days left until Game 1," Bender said. "So we'll see. I don't know when it will happen. I haven't heard anything from the coaches, but I'm just trying to go out there and do what I can do, play to the best of my ability."
Stanley spent most of 2016 as a backup for Kansas — a third-stringer for the bulk of it, in fact — before usurping Montell Cozart and Ryan Willis to start the final three games. As a redshirt freshman the 6-foot-2 Vero Beach, Fla., native completed 93 of 156 passes (60 percent), with six touchdowns and six interceptions.
In 2015, as a redshirt freshman at Washington State, Bender was a backup, and played in five games. The 6-1 Fort Lauderdale, Fla., product went 53-for-91 (58 percent) in Mike Leach's Air Raid offense, with three touchdowns and four interceptions.
As a sophomore at Itawamba Community College the following year, Bender's production took off. As a juco QB in Mississippi, he connected on 211 of 324 passes (65 percent), averaged 303.7 passing yards a game, and racked up 21 TDs, with four interceptions over the course of nine games.