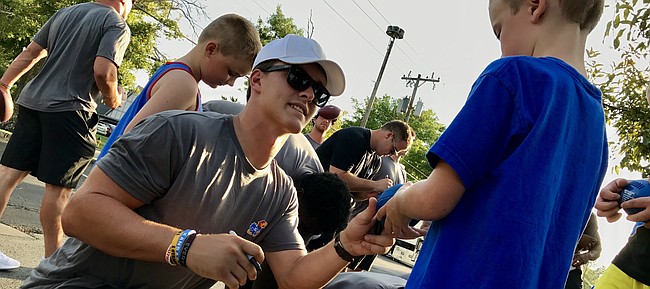 Prairie Village — When Kansas football head coach David Beaty had to decide which players to bring with him to the team's Friday night pep rally, he opted not to limit it to a handful of familiar faces as he had in the past.
And that's because the third-year coach thinks KU's fan base has gotten to know a lot more of the Jayhawks wearing those crimson and blue helmets and uniforms since he took over the downtrodden program.
"Most of these guys have got 24 games under their belt and that's a luxury we just simply didn't have (before)," Beaty said prior to taking the stage at the 12th annual KU Kickoff at Corinth Square. "They're becoming more familiar with our players because they've simply seen them play more, and I think they've watched them grow."
Most of the athletes accompanying Beaty to the fan-friendly meet-and-greet, during which they signed autographs and interacted with numerous families and supporters, have been in at Kansas since their coach took over, prior to the 2015 season.
"They were babies two years ago," Beaty said of the 14 players surrounding him, "but they're growing up, and I'm excited about them."
Sophomore left tackle Hakeem Adeniji, junior defensive end Dorance Armstrong Jr., junior transfer quarterback Peyton Bender, junior receiver Jeremiah Booker, redshirt junior linebacker Joe Dineen, sophomore safety Mike Lee, junior linebacker Keith Loneker Jr., junior running back Taylor Martin, senior punter Cole Moos, sophomore center Mesa Ribordy, junior receiver Steven Sims Jr., redshirt sophomore quarterback Carter Stanley, sophomore safety Bryce Torneden and junior defensive tackle Daniel Wise all joined Beaty at the event.
Before Wise prompted the crowd to serenade Lee with "Happy Birthday" to honor the defensive back's big day, Bender took the microphone — a duty Beaty claimed was decided by "rock, paper, scissors" — and thanked the parking lot full of supporters.
"We just wanted to let you guys know how appreciative we are of all you fans. You guys mean the world to us, and without you guys we're not anything," the potential starting quarterback said. "We hope to see you guys all out there on Saturday next week for (Southeast Missouri State)."
Eight days before KU's Sept. 2 opener, KU athletic director Sheahon Zenger spoke, as well.
"There's an incredible buzz like I haven't felt in years about football," Zenger told the crowd, "and I think you feel it, and we all feel it, and that's pretty special."