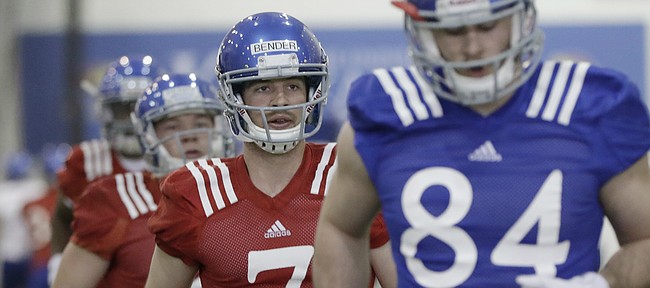 When the weather forecast for Wednesday morning called for rain, the Kansas football staff decided to turn a negative into a positive and reward the Jayhawks with a new experience.
Instead of practicing inside at Anschutz Pavilion, as KU typically does to avoid wet conditions, the players packed their gear, boarded a bus and headed to Kansas City, Mo., where they borrowed the Chiefs' indoor practice facility for a few hours.
"It was fun to get to check out an NFL facility," junior defensive tackle Daniel Wise said in a KU release. "Football is football, regardless of where it's played, so once we got started it was business as usual, but it was a good experience to see the look and feel of the next level."
KU's director of football operations, Nolan Jones, set up the opportunity the day before, allowing head coach David Beaty and his assistants to surprise players with the schedule change Tuesday night.
Armstrong to show off strong arm
Members of the Kansas football team will be back in K.C. Friday night for the Royals' annual "KU Night at The K" at Kauffman Stadium.
Before Kansas City takes on Cleveland, the Big 12's preseason Defensive Player of the Year, junior Dorance Armstrong Jr., will throw out the ceremonial first pitch.
A consensus All-Big 12 defensive end in 2016, Armstrong appeared ready to fire his first throw in an MLB park in a video tweeted out by KU football on Thursday.
KU cabanas
A week after introducing Memorial Stadium's new Field Goal Club, positioned on the north end of the field, KU announced the venue also will feature cabana-style suites beginning this fall.
Located in front of KU's Touchdown Club, on the south end of the gridiron, the cabanas are 15 feet from the end zone.
The new suites include 20 tickets — 16 seats and four standing-room only — and two parking passes per game. According to KU, cabana owners will have complete access to the Touchdown Club and its amenities. Each cabana is to feature two pub tables and two 42-inch TVs.
The cost per cabana was not released, but is considered a Williams Education Fund donation.
More information on cabana suites is available at KU's premium tickets website or by calling (785) 864-7757.