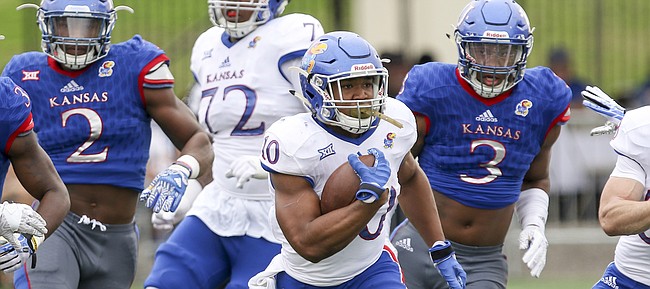 Less than four weeks away from his team's season-opener, Kansas football coach David Beaty might not be able to characterize any of his team's running backs as a definitive No. 1 option on the depth chart.
But as far as Beaty is concerned, the offense would be better off with more than one featured back.
Whether sophomore Khalil Herbert, junior Taylor Martin, freshman Dom Williams or junior Deron Thompson gets the starting nod Sept. 2 versus Southeast Missouri State, Beaty is convinced the running backs who play reserve roles will be just as crucial that week and throughout the fall.
"I think you'd like a primary player at every position if you could," Beaty replied, when asked if Doug Meacham's Air Raid offense needed a main ball carrier. "You'd like to, but we're going to have to use more than that."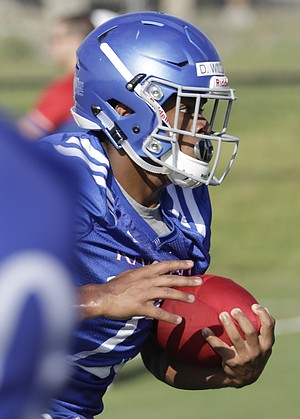 When Beaty thinks about the Big 12's best offenses, he associates them with the ability to send in more than one talented tailback. While certainly not about to compare any combination of his current Jayhawks to the likes of Oklahoma's Joe Mixon and Samaje Perine, who combined to rush for more than 2,300 yards in 2016, he would like to see KU follow such a backfield-duo blueprint.
"I mean, that's something that resonated with me, that you're going to have to have two of them that can play that I-back, so to speak, that can be the main tailback," Beaty said, "because you're going to have to have two of them. There's just too many hits being taken in this league, and at this level."
Predictably, Meacham shares that philosophy when it comes to his ideal offense.
"I like a one-two punch. I like a little scat, twitchy guy and I like a bigger guy — a hit it up in there guy — where you have two different flavors," Meacham said.
While the backfield hasn't felt quite as crowded as expected during preseason camp, as junior Octavius Matthews (undisclosed injury) has yet to be cleared to practice, Meacham and Beaty still have numerous choices. Herbert (4.3 yards a carry in 2016, with four touchdowns) and Martin (3.6 YPC, 4 TD's) offer the most experience.
"Khalil continues to improve," Beaty said. "Great vision, smooth feet, very patient, getting even more patient, which is good."
Martin, now a junior, has long been considered the fastest player in the program. While Beaty often has brought up true freshman Williams of late, he said Martin shouldn't be overlooked.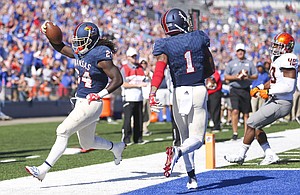 "I think he's gotten better because of all these guys around him," Beaty said of the 5-foot-10, 200-pound Martin. "It's really just made him become more of a complete back, which is good."
Herbert, a 5-9, 200-pound sophomore from Coral Springs, Fla., said KU's deep backfield benefits the entire group.
"The competition just helps bring out the best in all of us," Herbert said. "Each day we go out there, somebody makes a play, that next guy wants to make a play."
That collective mentality likely has played a part in Thompson, a Wichita native who played sparingly at Colorado State from 2014-15 before transferring to Kansas, continually catching his head coach's attention at preseason practices.
"Deron Thompson, I mean, that dude, every time we put the ball on the ground, he's going to make a big run somehow, some way," Beaty reported. "He's so quick. He's fast. He can cover a lot of ground. He just runs away from people."
Meanwhile, Meacham describes himself as cautiously optimistic about the coming impact of Williams, a four-star prep recruit from Independence, Texas, if only because the coordinator knows first-year running backs tend to have ball security issues.
Still, Meacham said the 5-10, 190-pound Williams possesses "some natural shake that can make you miss," as well as the ability and patience to run inside or outside on a zone rushing call.
Herbert likes seeing so many in his position group showing at least flashes of first-string abilities.
"I think it's a really good thing for us, knowing that the guy right behind me or the guy in front of me is ready to go, so we can sub in and out, get breaths if we're tired," Herbert said.
While KU appears to have four in the mix for touches at this point, Beaty said he would like to have five capable backs, because of the physical toll taken on backs, both through carries and pass protections.
"And really you'd like to be able to use most of those guys, to be able to keep the wear and tear down," the third-year head coach added.
KU'S RUNNING BACKS
No. 10 - Khalil Herbert, 5-9, 200, soph.
No. 12 - Octavius Matthews, 6-1, 200, jr. (not practicing while awaiting medical clearance)
No. 23 - Denzell Evans, 5-11, 215, sr.
No. 24 - Taylor Martin, 5-10, 200, jr.
No. 25 - Dom Williams, 5-10, 190, fr.
No. 26 - Deron Thompson, 5-9, 185, jr.
No. 28 - Kendall Moriis, 5-10, 200, jr.
No. 30 - Kezelee Flomo, 5-10, 215, soph.
No. 32 - Reese Randall, 5-11, 216, jr.