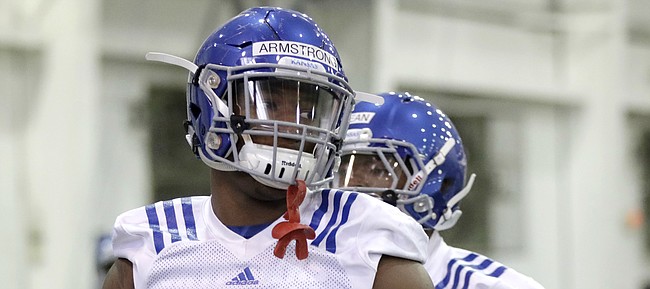 The Big 12's preseason Defensive Player of the Year watched most of Thursday morning's Kansas football practice from the sideline. But Dorance Armstrong's coaches aren't nearly as concerned about the severity of what ails the star defensive end as they were a year ago at this time.
On the first day of preseason camp in 2016, before Armstrong's breakout sophomore season, he partially tore the anterior cruciate ligament in his right knee. Head coach David Beaty said this week Armstrong suffered "a little twinge" in one of his hamstrings.
"We're trying to be cautious with him. But he's got to practice," Beaty added.
KU's third-year head coach forewarned players who miss too much time in August find it hard to catch up.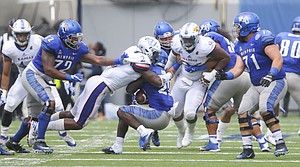 "I've been around guys that don't practice and it doesn't work out. So I'm not upset at him; I'm not upset at anybody. We're going to be smart with him. But I've been down that road before. I know how that song ends. You've got to practice," Beaty said."So we've got to get him well as fast as we can or he won't be what he's capable of being."
To the coach's point, Armstrong admitted last season he didn't feel up to speed in KU's first two games, during which the talented pass-rusher failed to record a sack versus Rhode Island or Ohio.
Even with his slow start, the Houston native went on to record 10 sacks and 20 tackles for loss, and become a consensus All-Big 12 first-teamer in 2016.
Defensive coordinator Clint Bowen said the Kansas staff isn't doing much with Armstrong at practices this week, other than some of the slower, non-contact drills. But Bowen thinks Armstrong will be fine.
"If he had to go right now he could tough it up and go," Bowen said of the junior defensive end. "But for where he's at in his career, in his development, it actually helps us — getting some of the other guys reps a little bit."
KU's other primary defensive end, junior Josh Ehambe, has missed practice this week due to injury, too, but is expected to return next week. With Ehambe and Armstrong out, Bowen said many of the D-end repetitions are going to junior college transfers KeyShaun Simmons and Willie McCaleb, as well as sophomore Maciah Long. Young players, such as walk-ons Vaughn Taylor and Sam Burt, Bowen added, are seeing more reps than they otherwise would.
Beaty also mentioned sophomore D-end Isaiah Bean has a chance to be "really talented," adding Bean put 12 or 13 pounds on his 6-foot-4 frame over the offseason. Bean was listed at 220 in the spring.
While Beaty laughingly admitted the 6-foot-4, 246-pound Armstrong is "better than a lot of guys without practicing," he said he wants KU's junior defensive end to reach his full potential this season. When Beaty worked as a receivers coach at Texas A & M, he said one of his best players, Ryan Swope, had a similar issue and the coaches told him he had to practice or he wouldn't play.
"And he turned into a dynamic player for us that year," Beaty said of Swope, who went on to finish third in the Big 12 in receptions (89), receiving yards (1,207) and touchdowns (11) in 2011. "You've just got to get those guys on the field."