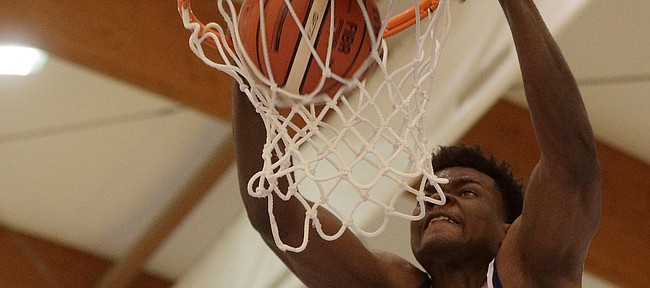 Rome — The thing about Udoka Azubuike's second game in Italy this summer — a 92-61 win over Players Group at Honey Sport City gymnasium in Rome — was not that he stopped dunking or even that he stopped dunking so hard.
Instead, the KU big man started dunking smarter.
One night after nearly putting an early end to KU's exhibition opener by almost doing irreparable damage to the basket, Azubuike showed that he learned his lesson from Game 1 and refrained from hanging on the rim after his monster dunks.
Same Azubuike power going through, just a lot less stress on the basket on the back end.
"He was fantastic," said freshman guard of Azubuike, his face lighting up with a huge smile. "Coach told him to dunk it but don't hold on the rim, and he was dunking."
Self, however happy his was with Azubuike's ability to lay off the rims, said he still would like to see the big man score a basket with a defender standing behind him.
On one play, with no one anywhere near him, Azubuike threw the ball of the backboard to himself and then slammed it through, no hanging.
"What was he doing," Self joked rolling his eyes. "He won't do that again, I don't think. At least when we get back to the States. But that was fine. I'd still like to see him make a basket with a guy behind him because I think every basket he had today was a dunk."
Different city, different look?
Kansas coach Bill Self used the word "fine" to describe his team's play and the outcome of the first two games on KU's four-game Italian exhibition tour following Thursday's victory.
But the veteran KU coach who now is 19-2 all-time at Kansas in games played on foreign soil has a clear goal for the next two games, Saturday and Sunday in Milan.
"I'd like to try to play one game (with) the guys that we're playing this year," Self said of the eight players who will be eligible to play during the first semester of the 2017-18 season. "Just to see how they do for like the first three quarters, just see how they look together."
That group includes the starting five from both games in Rome — Devonte' Graham, Malik Newman, Lagerald Vick, Billy Preston and Azubuike — along with Svi Mykhailiuk, Marcus Garrett, Mitch Lightfoot. To this point, Self has sprinkled in transfers Sam Cunliffe, K.J. Lawson and Charlie Moore, along with walk-ons Clay Young and Chris Teahan, into the Jayhawks' first two games on Italian soil.
While playing the core group for the upcoming season together might do wonders for team chemistry, Self also had another hope for the final two games of his team's Italian tour.
"Hopefully the teams in Milan are a little better," Self said, nearly repeating a line he uttered Wednesday night. "I don't know if that's the case or not. I think some of their professional players (from Thursday's opponent) are playing in Switzerland right now but we still showed some signs."
Mad mask
Forced to wear a face mask in order to give his broken nose the proper time to heal, Kansas sophomore Mitch Lightfoot has looked to be bothered by the headgear during the first couple of games in Italy.
Lightfoot's father, Matt, told the Journal-World before Thursday's game that his son was having a hard time with the mask because it forces and encourages him to occasionally look down the through the separation between the plastic and his face and he's not yet fully used to that.
Lightfoot finished with six points and six rebounds in 19 minutes on Thursday while playing his typical hard-nosed, fight-to-the-death style of play.
A welcome day off
After playing their first game just one day after flying across the Atlantic Ocean and coming right back for Game 2 less than 24 hours later, the Jayhawks are looking forward to an off day on Friday.
"Oh, definitely," Graham said. "I think it'll be good and then we can get right back after it on Saturday."
Self said he thought the off day, which still will include travel to Milan, was coming at a fine time.
"I'm looking forward to the train ride tomorrow as much as anything," he joked of the three-hour jaunt from Rome to Milan via high-speed train. "They say it goes about 210, 220 miles an hour so that'll be fun."
Self on Vatican City
Although he admitted he did not even know Vatican City was its own country until the Jayhawks toured it on Thursday, that did nothing to put a negative spin on Self's experience visiting the historic site.
"I was blown away," Self said. "I think everybody was, with the obvious history and tradition and just how nice (everything was). It just blows your mind how pristine everything is. People here should be very proud of what they have."
This and that...
Thursday's game was played in front of a smaller crowd and in slightly cooler conditions. That's not to say the HSC gym was not steamy, but officials said it was at least a couple of degrees cooler on Thursday than at tip-off on Wednesday. As far as the crowd goes, Thursday's group was almost entirely pro-KU and was about half as big as the 1,000 fans who packed the stands in the opener.... KU shot 11 of 29 from 3-point range (38 percent) and 7-of-13 (54) from the free throw line.