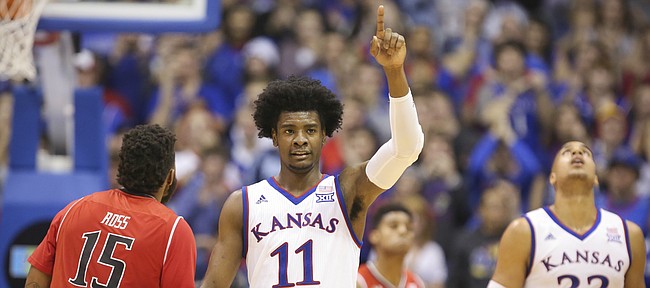 Kansas freshman Josh Jackson, who earned second-team All-American honors and was named the Big 12 freshman of the year during his lone season in college, made it official on Monday — he's headed to the NBA.
Jackson announced his decision in a news release sent to The Associated Press.
A versatile, 6-foot-8 forward with guard skills who is projected to be drafted in the Top 3 this June, Jackson has signed with an agent, B.J. Armstrong of the Wasserman Media Group, and, therefore, will not return to KU for his sophomore season, which was the expectation the minute he signed with Kansas last year.
KU coach Bill Self said throughout Jackson's time with the Jayhawks that he would be a one-and-done player and Self and the program got as much as they could have hoped for out of the Detroit native during the 2016-17 season.
"This obviously does not come as a surprise," Self said in a news release. "When we recruited Josh we were so fortunate but also knew this would probably be a one-year stay. He has not only surpassed our expectations as a player but also as a leader and a teammate."
Self's favorite catch phrase associated with the ninth one-and-done Jayhawk in the 14-year Self era (Jackson, Cheick Diallo, Cliff Alexander, Kelly Oubre, Andrew Wiggins, Joel Embiid, Ben McLemore, Josh Selby and Xavier Henry) was that Jackson had "unpacked his bags" and was willing to give everything he had to the program for the time he was in Lawrence.
Jackson did exactly that, holding down a heavy scoring, rebounding and defensive burden while playing the 4 spot in KU's four-guard lineup, which occasionally had him asked to guard much bigger players.
While improving in just about every category every month of the season, Jackson finished as the Jayhawks' second-leading scorer at 16.3 points per game. He also averaged 7.4 rebounds per game (second on the team) and shot .513 from the floor and .378 from 3-point range, including well above 40 percent during conference play.
"We are all very happy for Josh and his family and are very proud of having coached one of the most talented kids that has ever come through here," Self added. "We've had a lot really good ones here but Josh is as prepared for the next level as anyone that we have ever had."
In a statement released Monday, Jackson showed genuine appreciation for his 10 months as a Jayhawk.
"After thoroughly consulting with my family, I have decided to enter the 2017 NBA Draft and pursue my dream of playing professional basketball," Jackson said in the statement. "I am very thankful for all of the support I have received from my coaches and teammates at Kansas."
Jackson becomes the third Jayhawk from last year's 31-5 team to leave, joining seniors Frank Mason III and Landen Lucas.
Junior guard Devonte' Graham announced a couple of weeks ago that he would return for his senior season and fellow-junior Svi Mykhailiuk has elected to test his stock in the NBA, which will consist of workouts and interviews during the next few weeks in order to gather as much information as possible. Mykhailiuk has not signed with an agent and, therefore, is eligible to return to KU for his senior season should he make that decision before May 24.
Jackson's departure officially opens up another scholarship for Self to use in the 2017 class and the Jayhawks continue to pursue players to round out the class that already includes Billy Preston and Marcus Garrett. At the top of KU's wish list for that final spot are: 5-star point guard Trevon Duval, 6-foot-10 big man Jeremiah Tilmon, Brewster Academy guard Thomas Allen and Hutch juco standout Shakur Juiston, among others.