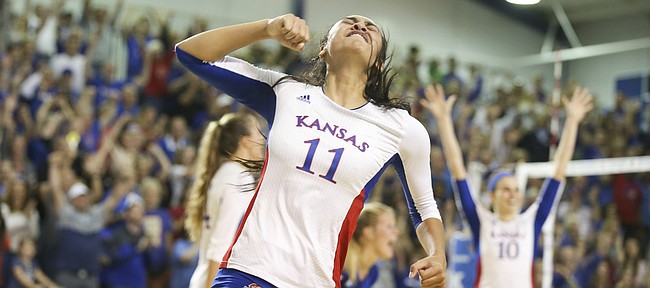 After dropping the fourth set 25-12 and giving all the momentum from back-to-back victories in the second and third to Texas, Kansas setter Ainise Havili gathered her team before the decisive fifth and shared one simple message.
"She was like, 'We've worked so hard for this and we're not gonna roll over. This is our chance and we've gotta go take it,'" recalled Kansas junior Madison Rigdon.
Twenty-five magical points and 22 heart-racing minutes later, the sixth-ranked Jayhawks finally knew what it felt like to beat Texas, winning a five-set thriller, over the nation's second-ranked team, 17-25, 25-11, 27-25, 12-25 and 15-10 at Horejsi Family Athletics Center.
Photo Gallery
Kansas volleyball v. Texas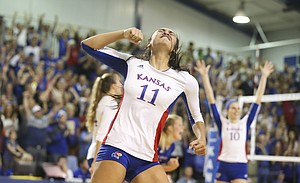 View a gallery of images from the Jayhawks' and Longhorns' match on Saturday at the Horejsi Center.
When freshman Jada Burse recorded KU's 13th block of the night to seal the victory, the gymnasium erupted, the Jayhawks went wild and the party was underway.
"It feels amazing," said Rigdon after a mini-celebration in the locker room that trickled back onto the court and eventually into the stands to thank the die-hard KU volleyball fans in attendance. "We've wanted it for so long and it finally happened. I'm like speechless.... It's more than I thought it would be. I'm so excited for our team and what's next."
Saturday's match had a little bit of everything and certainly was not for the faint of heart. Texas controlled the net in jumping out to victory in the first set and Kansas responded with a dominant performance in the second.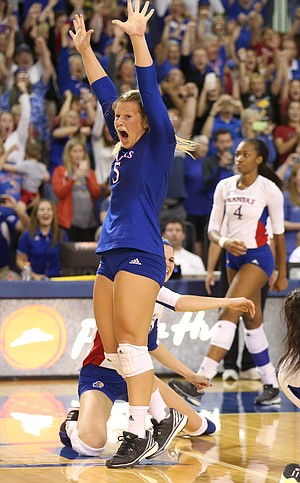 Junior outside hitter Kelsie Payne, who finished with 21 kills, said she thought KU's performance in second set was the turning point because it got KU back in the match and restored the Jayhawks' confidence.
"We were pretty much perfect," Payne said of her team in that second set. "We just really played Kansas volleyball."
Of late, that has meant playing smart, playing hard, playing with a clear mind and focusing most on the things they could control. The Jayhawks caught a couple of breaks — most notably bang-bang contacts by Burse and Kayla Cheadle that crawled over the net to push KU's fifth-set lead to 14-10 — but also gave a few points away, as well. In the end, head coach Ray Bechard said KU's victory came down to one thing — the will of this team to get the result it so desperately wanted and believed it deserved.
"I just think they were gonna stay out there as long as they needed to tonight to beat Texas," Bechard said.
During Saturday's good moments and the bad, the Jayhawks found themselves thinking back on a pre-game message from senior setter Maggie Anderson, who had yet to experience the euphoria of knocking off one of college volleyball's true powerhouse programs.
"Before we came out, Maggie says, 'I need to beat Texas before I leave here,' and everybody responded to Maggie, Cassie (Wait) and (Tayler) Soucie and how important that was to them, because those three (seniors) have put in a lot of hard work for this team."
Asked how big of a factor that message and the desire to win one for the upperclassmen played on Saturday, Rigdon and Payne uttered nearly the exact same words.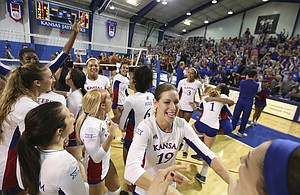 "A lot," Rigdon said. "I think that pumped us up. This was their last (time) playing Texas and I think that really motivated everybody to play for each other."
Saturday's victory snapped a 25-match losing skid to Texas (17-3 overall, 9-1 Big 12) and pulled the Jayhawks (20-2, 9-1) into a tie for first place in the Big 12 standings. It also extended KU's current winning streak to eight matches.
More than that, though, it will go down as the latest stop in what has been an incredible journey during the past few seasons, starting with an NCAA Tournament berth and victory in 2012, a Sweet 16 appearance in 2013 and, of course, last year's run to the Final Four.
"Obviously they're gonna be happy about it," Bechard said. "But this needs to be part of our journey and not our destination."
After letting the long-awaited victory sink in over the weekend, Kansas will return to action Monday in preparation for Wednesday's showdown with Kansas State in Manhattan.