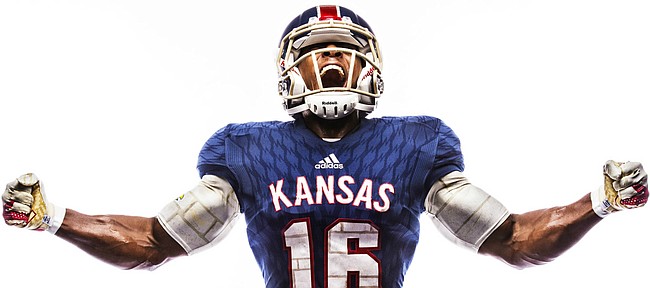 The University of Kansas football team will have a new look when it takes the field Oct. 22 for its homecoming game against Oklahoma State.
Adidas and Kansas Athletics revealed Wednesday what they've branded as the Jayhawks' "limestone" alternate uniforms and helmets.
The special edition threads with a retro feel are said to be inspired by KU's "Rock Chalk, Jayhawk" chant, which originated in the 1880's. At the time, the university's geology club created the cheer, paying homage to limestone structures on campus, such as the Campanile World War II Memorial. Accordingly, the adidas "primeknit" compression uniforms were designed based around a limestone theme, paying homage to KU's tradition, as well as local geology.
"Drawing upon the color and font style hearkening back to the style worn in the early 1960's," a KU release stated, "the traditional 'Kansas' moniker and player numbers are featured in a limestone brick pattern graphic, and highlighted with metallic red outlining."
The special edition helmets also feature the limestone look, within player numbers on one side..
The Jayhawks' next home game, versus OSU, kicks off at 11 a.m. on FOX Sports 1.
The Cowboys lead the all-time series with Kansas, 34-29-3, and have a 19-15-1 record at KU.