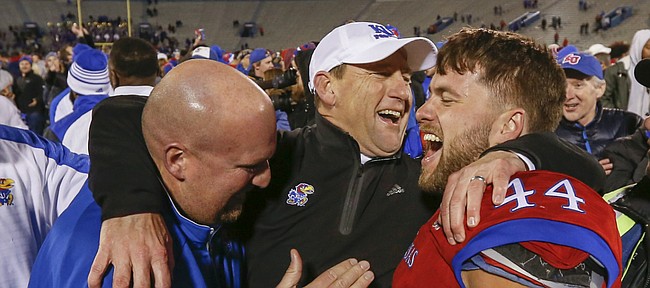 David Beaty was the last person to think about regulating the excitement circulating around the University of Kansas campus Saturday night after his football team upset Texas in overtime.
The second-year head coach, in fact, jumped in his vehicle with his family and drove downtown to Mass. St., to check out what he described as a "phenomenal" scene.
So Beaty had no problem allowing his Jayhawks — some of whom had gone just more than two years without beating a Big 12 or FBS foe — to soak in the favorable vibes in the wake of a rousing win.
The coach, no doubt, derived even more confidence on that front upon witnessing many players in the locker room discussing the upcoming season finale before the party had as much as slowed down.
Beaty estimated it hadn't been 10 minutes since he made his closing comments to the team Saturday night before the Jayhawks started talking about their next game — on the road, against rival Kansas State (11 a.m. kickoff, FOX Sports 1).
"This game means so much to people in this state," Beaty said Monday morning during the Big 12 football coaches media teleconference, "and we are playing against arguably maybe one of the finest coaches in the history of our game (K-State's Bill Snyder) and a team that is known for production and doing things right. So it's always a great game, and we're excited about getting to play in it, and it means a lot to the fans in this state. From our standpoint, it's good to have a group of men who understand that and they get it. I think they enjoyed the win Saturday, but, man, when Sunday came, judging by the texts I got and the guys that stopped by my office, the conversations were turned directly to K-State and what they're doin' and how we are gonna attack 'em and what we need to do to slow those guys down. So I think the focus is gonna be fine."
The Jayhawks (2-9 overall, 1-7 Big 12) felt desperate for a victory last week. Now, as they prepare for the Wildcats (6-4, 4-3), the players can do so with a greater sense of pride in their recent accomplishments.
Said sophomore defensive end Dorance Armstrong Jr.: "We've got a lot of momentum on our side. I feel like if we just execute our game plan for both sides of the ball like we did this week, then we can get the win."
Defeating Texas obviously doesn't guarantee KU of anything. The Jayhawks have lost 43 consecutive games outside of Lawrence, 40 straight true road games and enter Manhattan on a 35-game Big 12 road skid.
Still, Beaty said his team has to draw from the positives of its latest win ahead of its final game of 2016.
"From our standpoint, you've gotta feel good goin' into this game knowin' that, hey, listen, we played a good enough game to win (in the) Big 12 and get that first one behind us," Beaty said. "Now we've got a chance at a great rivalry game that means the world to this state. I know our kids are gonna be excited about it."
KU hasn't defeated Kansas State since 2008, when Ron Prince coached the Wildcats and lost, 52-21, in Lawrence, to Mark Mangino's Jayhawks. K-State has won seven straight in the series since Snyder's return to the sidelines, with the previous six coming by an average margin of 36.7 points.