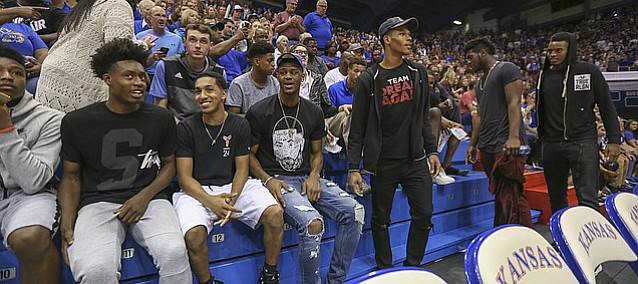 Seated in the ESPNU college basketball studio Friday afternoon, alongside Dino Gaudio who coached him at the recent Under Armor All-America camp, five-star, Class of 2017 forward Billy Preston fidgeted like a kid waiting for dessert to be served before finally being given the chance to announce his college decision.
Without much fanfare and with little hesitation, Preston (seated in jeans and a hat in above photo) grabbed a blue KU hat with a Jayhawk on the front and said simply, "Next year, I'll be attending the University of Kansas."
With that, KU's so-called drought in the 2017 recruiting class officially came to an end.
Preston, a 6-foot-9, 240-pound hybrid power forward with both big man and guard skills, becomes the second player in the 2017 class to pick the Jayhawks, joining four-star forward Marcus Garrett, who made his commitment official by signing his letter of intent earlier this month.
"Obviously, we are very excited," said KU coach Bill Self, which only was possible since Preston also signed during the early period, which ended Wednesday. "I don't think we've ever had the opportunity to coach a taller, more athletic, skill player than Billy. He has guard-type athletic ability and skills but, at 6-foot-10, he can be a force inside as well. We are thrilled to have Billy joining our basketball program."
Regardless of the timeline of Preston's path to Kansas, the forward from Oak Hill Academy said his relationship with the Kansas coaching staff played a big role in him picking KU.
"I felt comfortable," he said. "I felt they had my best interest at heart. I just think Coach (Bill) Self and the rest of 'em saw the best in me."
Preston was one of several visitors in Lawrence for this year's Late Night in the Phog event and he appeared to be the one having the most fun, playing to the crowd, wearing the KU gear, enjoying every aspect of the season kick-off event. That, too, played a part in Preston picking Kansas.
"It was crazy," he said. "Allen Fieldhouse was ecstatic. Just to see how much they appreciate the sport of basketball and how much love they showed me on my visit, it was just great. Great to see, great to feel."
Speaking of great feel, Preston comes to Kansas with one of the more versatile games of any player his size in recent memory. The KU coaches used that to their advantage while recruiting him, emphasizing that they would not box him into one position and would be willing to use all of his skills to benefit the team.
"(Coach Self) said he saw me all over the floor, playing everything," Preston revealed. "Rebounding and pushing the ball up the floor, they run a great high-low set so he sees me playing high or low, doesn't matter.
Asked on ESPNU who he compared his game to, Preston did not hesitate to answer.
"LeBron," he said with a high-watt grin. "LeBron James."
Although he stopped short of comparing him to King James himself, Gaudio further advanced the idea that Preston could be a factor all over the floor.
"He is 6-9, 240 with a guard skill set," Gaudio said. "He is a match-up nightmare because when a smaller guy was on him, we posted him up and when a bigger guy was on him, Billy could step out beyond the three-point line and make the three but also put the ball on the floor.... When Billy got the rebound for us, I trusted him to bust out, dribble, take the ball down the floor, create and make plays. And he can do all of those things. I think he's a terrific talent."
Preston's commitment helps ease the pain of KU already missing out on three Top 12 players and a few others in the 2017 class, including DeAndre Ayton (No. 1, Arizona), Collin Sexton (No. 7, Alabama) and Troy Brown (No. 12, Oregon).
Self has said he could be forced to sign as many as six players in the 2017 class if KU loses multiple underclassmen to the NBA Draft following this season and grabbing a combo guard and versatile big man certainly puts the class off to a strong start.
The Jayhawks remain in the running for top-tier point guards Trevon Duval (No. 3) and Trae Young (No. 14) and still are pursuing several other players in the 2017 class.
So far, though, Preston is the signature addition and he knows it.
"The whole process has been hectic and me and my family are glad it's coming to an end," said Preston, who was ranked No. 20 in the ESPN 100. "There's for sure not 19 players in my class better than me."