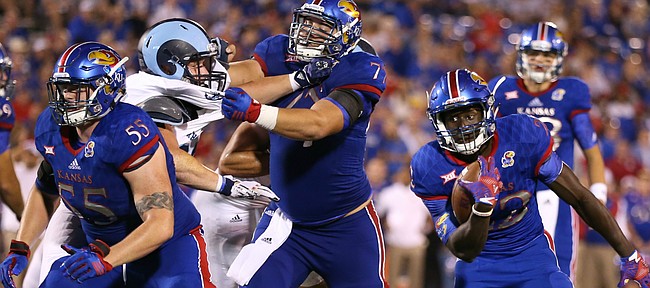 Every senior in a Kansas football uniform knows it's coming. Just how or when it hits them, that remains to be seen.
KU will honor the 23 seniors on its roster prior to kickoff (2:30 p.m., ABC) against Texas, Saturday at Memorial Stadium. But dealing with the finality of a college career varies from person to person.
Senior running back Ke'aun Kinner is looking forward to the "Hawk Walk" down to the locker room two hours before kickoff, but said it figures to be much later before he processes playing his final KU home game.
"… The feeling of it being over or me having no more games left in this stadium hasn't hit me yet," Kinner said earlier this week."I'm pretty sure that feeling's gonna hit me whenever I leave. Whenever it says zero zero on the scoreboard (clock) and I'm walking off the field. That's when it's gonna hit me."
2016 KU FOOTBALL SENIORS
No. 5 — LB Marcquis Roberts
No. 7 — K Matt Wyman
No. 8 — CB Brandon Stewart
No. 9 — S Fish Smithson
No. 10 — CB Marnez Ogletree
No. 13 — DE Damani Mosby
No. 14 — S Chevy Graham
No. 22 — S Greg Allen
No. 22 — RB Ke'aun Kinner
No. 24 — S Bazie Bates IV
No. 25 — RB J.J. Jolaoso
No. 28 — LB Courtney Arnick
No. 30 — S Tevin Shaw
No. 35 — DE Anthony Olobia
No. 44 — FB Michael Zunica
No. 46 — DE/LB Cameron Rosser
No. 62 — RT D'Andre Banks
No. 68 — LS John Wirtel
No. 72 — DT Will Smith
No. 79 — OL Jordan Shelley-Smith (retired — concussions)
No. 82 — WR Shakiem Barbel
No. 85 — WR Austin Moses
No. 95 — DT Devon Williams
Second-year Kansas head coach David Beaty hasn't been involved with all the seniors from the first day they stepped on campus. But Beaty appreciates what they've meant to the program, and what they've contributed to what he hopes to build in Lawrence.
"I had somebody ask me the other day: How do you keep your team going when you haven't had the production that you want? And I say it all the time, we have the right guys on our team, which helps us, number one. But really, number two, the real answer to that is that we've played this entire year for our seniors," Beaty said. "Those guys have given so much to this university. I know that this being their last time, it comes fast. I mean, they look up, they blink their eyes, and it's always the same words, 'I can't believe it's over.' They're going to have their family members out there."
KU (1-9 overall, 0-7 Big 12) should have the following starters in the lineup against Texas (5-5, 3-4): corner Brandon Stewart, safety Fish Smithson, corner Marnez Ogletree, defensive end Damani Mosby, Kinner, linebacker Courtney Arnick, safety Tevin Shaw, right tackle D'Andre Banks and receiver Shakiem Barbel.
"And the remainder of our team are going to be given everything they can to make sure that they send these guys out on a winning note at home," Beaty said. "How cool would that be for these guys to get that first Big 12 win in our era on Senior Day here? No better day than the next. So let's go."
Jayhawks receive academic honors
Nineteen players of the KU football roster received Academic All-Big 12 honors this week, led by junior cornerback Colin Spencer — a first-teamer for the third consecutive year. With a GPA of at least 3.2, Barbel, Montell Cozart, Joe Gibson, Larry Hughes, Keith Loneker Jr., Austin Moses, Tyler Patrick, Cameron Rosser and Ryan Willis joined Spencer on the first team.
Nine seniors comprised KU's second-team selections as Arnick, Banks, Anthony Olobia, Marcquis Roberts, Jordan Shelley-Smith, Will Smith, Smithson, John Wirtel and Michael Zunica were honored.