With two runners on base and one out in the bottom of the fourth Sunday afternoon at a drenched Arrocha Ballpark, Kansas University's softball players and coaches remained optimistic something positive would come out of a weekend series already sealed in favor of visiting Oklahoma State.
Instead, the Jayhawks didn't even get a chance to cut into a 2-0 OSU lead, as the second weather delay of the afternoon at Rock Chalk Park canceled their chances, leaving KU powerless in its attempt to get back on track after losing seven of its last eight games.
Afterward, senior outfielder Shannon McGinley called the rainout, which won't be rescheduled, a bummer, because the Jayhawks (28-20 overall, 5-9 Big 12) needed a victory.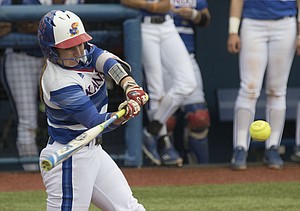 "At this point, we really want to play all the games that we can," said McGinley, who had walked to lead off the inning now washed from the record books. "I think definitely this game, compared to the last two of the series, we were on top of things, and we were really looking good."
The thing about those two losses to Oklahoma State is they well might have sealed KU's postseason fate. With just three games remaining on the schedule — beginning Thursday at Rock Chalk Park against Iowa State — Kansas coach Megan Smith said the Jayhawks could have cost themselves a third straight trip to the NCAA Tournament.
"I think it's a long shot," Smith said of making the field. "I think this weekend we had a chance to secure it, and we just didn't take care of business."
McGinley, citing a road victory earlier this season at Oklahoma, the Big 12's top team, said KU is capable of playing at a high level when everything clicks. However, she added, the Jayhawks have failed to put complete efforts together during their recent skid, which included losing road series at Baylor and Texas.
"When our offense is on, it's great. And when our pitching is on, it's phenomenal," McGinley said. "So I think the past however many games we've had trouble making them both great at the same time. One game offense will be great, and sometimes pitching isn't. Then pitching's great, and our offense can't keep up. I think for us focusing on making everything connect and working together is the biggest thing."
Smith said KU needs to win its final series against the Cyclones, and then "you never know" about what could happen in terms of an NCAA berth.
"If we finish strong, we still played a really good schedule, have done a lot of good things, had some really good wins," Smith said. "It'll just be in the committee's hands, and I'd imagine we'll be right there on the bubble, and they'll be thinking about us, and hopefully they'll put us in."