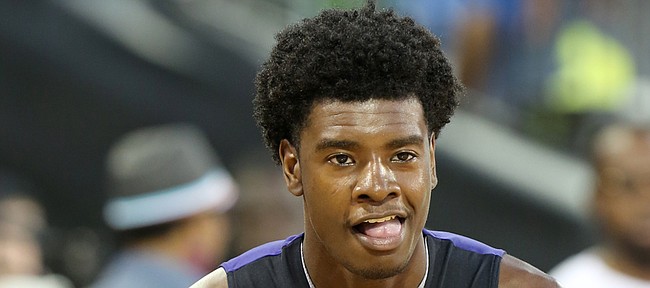 Incoming Kansas University freshman Josh Jackson was named to the 44th-annual Louisville Courier-Journal Super Five team, which honors the country's top high school players.
Jackson, a 6-foot-7 senior shooting guard from Prolific Prep in Napa, Calif., earned Super Five mention with incoming Kentucky guards De'Aaron Fox (6-4, Cypress Lakes High, Katy, Texas) and Malik Monk (6-4, Bentonville (Ark.) High), plus incoming Duke forwards Harry Giles (6-10, Oak Hill Academy, Mouth of Wilson, Va.) and Jayson Tatum (6-7, Chaminade Prep, St. Louis).
Jackson, who is ranked No. 1 in the recruiting Class of 2016 by Rivals.com, 247sports.com and Scout.com and No. 2 by ESPN.com, averaged 26.9 points, 13.1 rebounds and 6.3 assists his senior season at Prolific Prep.
"I think Jackson is probably going to be the early favorite for national freshman of the year next season," writes ESPN.com's Jeff Borzello. "He's a lockdown defender, can guard multiple positions. He's got length and he's athletic. His lateral quickness is very good, and he's terrific in transition and the fast break and finishing at the rim.
"To me, what separates him from everybody in the 2016 class is his competitiveness, his leadership. You don't see a lot of guys take so much pride in pretty much every possession. You saw it at the McDonald's All American practices: he was getting on teammates if they weren't getting stops and he was frustrated when they weren't scoring. You don't usually see that from a high-profile player like that. He didn't take a play off."
Youth to be served in N.Y.: The four teams to assemble for the Champions Classic (KU vs. Duke; Michigan State vs. Kentucky) on Nov. 15 in New York have signed 15 consensus top-50 recruits in the Class of 2016, with Marques Bolden and Jarrett Allen still undecided.
They are: KU players Jackson, Udoka Azubuike; Kentucky players Fox, Monk, Bam Adebayo, Wenyen Gabriel, Sacha Killeya-Jones; Duke players Giles, Tatum, Frank Jackson, Javin DeLaurier; Michigan State players Miles Bridges, Joshua Langford, Cassius Winston, Nick Ward.
Ellis' jerseys popular: KU's Basketball Barnstorming Tour event Friday at Wichita East, which helped raise money for Wichita East's baseball program, was a near sellout.
Perry Ellis' white jersey was auctioned off for $2,300, while his blue jersey went for $900.
"Coming back to your hometown, seeing all the KU fans and all the supporters, it's just a great feeling," said Wichita Heights grad Ellis in an interview with the Wichita Eagle. The 6-foot-8 Ellis didn't play in the game at the advice of his agent. The NBA Combine begins Wednesday in Chicago.
"I was working out in Houston for a couple of weeks with John Lucas, then I was in Chicago before coming home," Ellis told the Eagle. "I'll head back to Chicago after this to keep getting ready for the Combine and the draft."
Former KU standout Lynette Woodard, who attended Wichita North, was an honorary coach Friday.
"I love Perry. He's done a great job for the University of Kansas. Thankfully he came back to give us one more show before he heads to the NBA," Woodard told the Eagle.