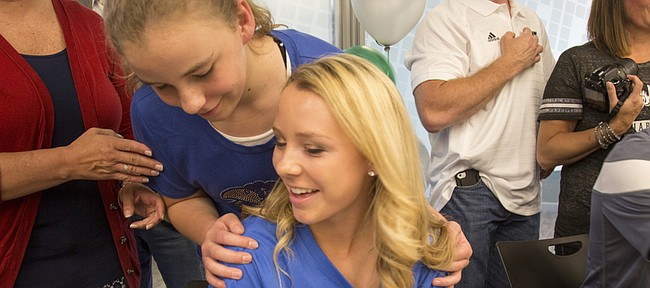 When Callie Hicks entered high school, she never pictured herself as a pole vaulter. Until three years ago, the Free State High senior spent most of her time focusing on gymnastics.
After shin splits and leg pain forced her out of competitive gymnastics, some of her friends mentioned vaulting and encouraged her to try it out.
Fast forward to Wednesday, when Hicks signed her letter of intent to vault at Kansas University in the Free State conference room. Along with Hicks, Free State had three runners celebrate signings. Tommy Jacobs and Ronald White signed to run at Allen Community College, and Tanner Hockenbury signed with Washburn University.
"This day was really awesome altogether," Hicks said. "It was great having friends and family here to watch me sign, finally. Just a really great day."
Hicks won a Class 6A state title last season by clearing 10 feet, 6 inches. Her personal record at Free State is 12-3, only six inches short of tying the school record. Her goal for the rest of the year is reaching 13-6.
Before choosing the Jayhawks, Hicks considered several schools across the Midwest, including Wichita State, Kansas State, Nebraska and UMKC.
"Honestly, three years ago, I never would've dreamed I would have even been a pole vaulter at all," Hicks said. "But I'd definitely say it's a great thing. I love it so much, and I'm really excited to see where I go."
The key for Hicks, who finished runner-up at the Kansas Relays earlier this season, was putting in extra work during the summer after her sophomore year. That's when she transformed from an elite gymnast doing pole vaulting to one of the top vaulters in the state.
Competing for the Firebirds in gymnastics, Hicks took fourth on the uneven bars and fifth on the vault last season. She led Free State to a state title in 2014, placing 10th all-around.
"Summer is just a good time for (vaulting) because it's a really inconsistent sport, and it takes a lot of work to get it consistent," Hicks said. "Not having school or anything like that, I could spend more time working on it."
Pole vaulting is an inconsistent sport, but Hicks has made it look easy this season. Outside of her runner-up finish in the Kansas Relays, she has won every meet.
One of the bonuses of competing at the Relays, going up against some of training partners, was the opportunity to vault at her future home.
"I wanted to be close to home," Hicks said of choosing KU. "Actually, three reasons: I love Lawrence, I love the vault program and the athletes and coaches at KU. I just think it's going to be the best thing ever."