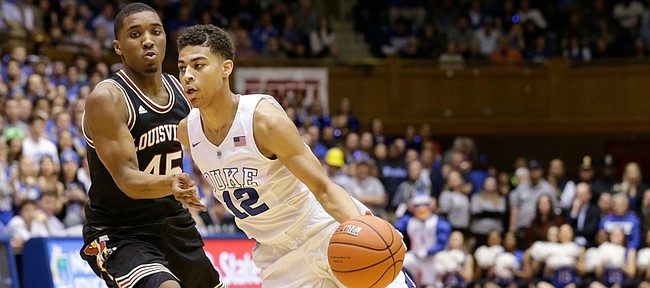 Former Duke point guard Derryck Thornton, who could help fill a need in Kansas University's backcourt during the 2017-18 season and perhaps beyond, today begins the second day of his official recruiting trip to Kansas University.
The 6-foot-2 Thornton, who visited USC last weekend, also has scheduled visits to Washington (Sunday) and Miami (May 15).
Thornton, who averaged 7.1 points, 2.6 assists and 26.0 minutes a game in Duke's 36 games this past season, can practice next season at his transfer destination but not play in games in accordance with NCAA rules.
The timing of that would appear to be ideal at KU, following the departure of Frank Mason III, who will have graduated, and possibly Devonté Graham and Svi Mykhailiuk, who could turn pro after their junior years. Also, perimeter player Josh Jackson arrives for summer school as a projected one-and-done player.
Podcast episode
Spodcasters Matt Tait and Benton Smith examine just how likely the Derryck Thornton to Kansas scenario truly is.
What kind of player is Thornton? Al Featherston of Dukebasketballreport.com recently wrote an opinion piece on the Chatsworth, Calif., native's transfer situation. Here is an excerpt ...
"Thornton's biggest flaw as a freshman was that he had not yet developed as a playmaker. His judgment was somewhat suspect. That was the issue that defined his freshman season — Thornton looking for his shot, while Coach K (Mike Krzyzewski) and the staff urged him to be more of a quarterback. Indeed, I don't know for sure, but I believe that conflict was behind the reported January crisis that led to Thornton's decision to transfer," Featherston wrote of Rivals.com's No. 14 rated player in the recruiting Class of 2015.
"I hate the decision for Duke and the kid. Look, if Thornton returned, he'd have to fight for playing time next season. The Devils will be loaded on the perimeter with the return of (Grayson) Allen, Matt Jones and Luke Kennard and the addition of Jason Tatum and Frank Jackson.
"That's not to say that Thornton could not elevate his game in the offseason to the point where he would have to play major minutes. As the only natural point guard on the roster and as a potentially outstanding on-the-ball defender, it's not farfetched to suggest that even with all the wing talent on hand, Thornton could have turned himself into a 25-30 minute a game player. Still, that was not likely. The most likely scenario was that Thornton would get 10-15 minutes while he worked to get more mature physically and develop his playmaking abilities.
"That would put him in spectacular position going into the 2017-18 season. Jones would definitely be gone … Allen and Tatum would likely be gone … it's even possible that one or both of Kennard and Jackson would be gone. If Thornton developed as most Duke players who stick around develop, he would be in position for a monster season in 2017-18.
"True, he would have had to be patient through next year, but by transferring he's got to sit out next season anyway. Is he going to be better off as a practice player at UNLV or Cal or wherever he ends up … or as a contributor – even a minor contributor – on a Duke team that should be a strong contender for the 2017 NCAA title?
"Believe me, the Blue Devils will be fine without Derryck Thornton. And, I suspect Thornton will have success at his new school, wherever that turns out to be. But I will always regret what might-have-been if Thornton had elected to gut it out and stay at Duke," Featherston concluded.
Jamison fundraiser set: A celebrity Hoops for Hope basketball game to raise funds for former KU forward Alonzo Jamison, who faces huge medical bills in his fight against End Stage Renal Disease, will be 6-10 p.m., June 4, at Avila University.
There will be a silent and live auction and autograph signings to raise money, along with the game. According to the Hoops for Hope Facebook page, the athletes attending/participating "include an NFL Hall-of-Famer, Super Bowl Champions, Pro-Bowlers, Chiefs Hall-of-Famers, former NBA, Royals, KU, and KSU stars, and many more!"
Hoops for Hope was started over 10 years ago to benefit student-athletes who displayed character in sports. A diabetic, Jamison has total kidney failure and is in need of a transplant. Currently, he undergoes 10 hours of dialysis a day which costs about $10,000 a week. He is looking for a kidney donor.
Avila University, site of the game, is located at 11901 Wornall Road, Kansas City, Mo., 64145. To read about Jamison's need for a new kidney, go to http://ljw.bz/1RC7jJb