Sviatoslav Mykhailiuk, who played some point guard in practice this season and also worked as emergency/experimental lead guard in a game or two, was asked last weekend in Louisville, Ky., if he might become a true combo guard if he decides to stay for a third season at Kansas University.
"I don't think so," the 6-foot-8, 195-pounder from Cherkasy, Ukraine, said.
He knows his future in the pros likely consists of being a deep three-point threat at the shooting-guard/small-forward positions.
"I would try to," he added of playing some point if asked.
"I would just try to get better at every spot to help the team," added Svi, who had 32 assists to 26 turnovers with 12 steals in 2015-16 for KU (33-5).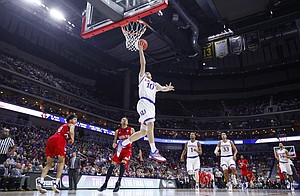 Mykhailiuk missed the only three he took and committed one foul in a scoreless seven-minute stint in KU's season-ending 64-59 loss to Villanova on Saturday. For the season, he averaged 5.4 points a game off 45.2 percent shooting. He made 37 of 92 threes for 40.2 percent.
Mykhailiuk, who turns 19 in June, may yet take advantage of a new NBA rule that allows players to attend the NBA combine in May and one workout for a pro team in an attempt to learn one's status for the upcoming draft. A player can still return to school if he does not sign with an agent. The final decision for players could come as late as the end of May.
Kentucky coach John Calipari recently said all of his players, including walk-ons, would declare for the draft to see if they net an invite to the combine.
"I am not trying to think about that now," Mykhailiuk said of his future after the Jayhawks' Sweet 16 win over Maryland.
None of the Jayhawks who are considered possible early entries, in fact, were willing to discuss their futures during the NCAA Tournament. Wayne Selden Jr., Cheick Diallo, Carlton Bragg Jr. and Brannen Greene all within the past couple of days or weeks told the Journal-World they were not thinking about next year right now.
On a lighter note, Mykhailiuk was asked if he has become a national hero in Ukraine considering KU's highly successful season.
"Back home, they are watching the games. I think people around the world are watching the games in the tournament," he said. "Last night (semifinal win over Maryland) was late here (in U.S.). It was probably in the morning 3 or 4 a.m. (in Ukraine)."
Asked if the President of Ukraine knew who he was, Mykhailiuk said with a smile: "I don't know. I've not ever talked to the president."
KU coach Bill Self conceded after the Jayhawks' loss to Villanova that some underclassmen could leave the program in addition to scholarship seniors Perry Ellis, Hunter Mickelson and Jamari Traylor and walk-on Evan Manning. He said he had no idea when decisions would be made.
"Whatever Wayne decides to do, we will support him as one of our brothers," junior point guard Frank Mason III said. Mason is expected to return for sure, with sophomore Devonté Graham as well as Lagerald Vick, a freshman shooting guard with great explosiveness. "Wayne is somebody we can always count on, who played hard every night and had a great season."
The Jayhawks are still in the running for combo-guard deluxe Josh Jackson, the No. 1 prospect in the country according to Rivals.com, who would be projected as an immediate starter. He told Eric Bossi of Rivals he hoped to have a decision within two weeks.
KU is bringing in a pair of forwards in No. 27 ranked McDonald's All-American Udoka Azubuike and Mitch Lightfoot, who is rated No. 117. KU also is in the running for 7-footer Thon Maker, who is projected as an immediate impact player. Also figuring to return for sure is Landen Lucas, the 6-10 honorable mention All-Big 12 player who improved leaps and bounds his junior season. He'll be joined on the inside by Dwight Coleby, a 6-9 junior transfer from Ole Miss, who is also expected to contribute immediately.
There are other prospects, obviously, who could be landed in recruiting.
As far as putting this season to rest, Self said of the Big 12 champs, who reached the Elite Eight: "I don't want to reflect now. I'll look back ... coaches probably know better than anybody what team ceilings are. These kids played pretty close to it the last couple months. I don't know with this particular group it could be a special year without getting to Houston (Final Four). Nobody could say these kids didn't have a great year. They battled hard, almost always rose to the occasion when they needed to. Tonight we played a team that is scrappy also. They made a couple more plays."