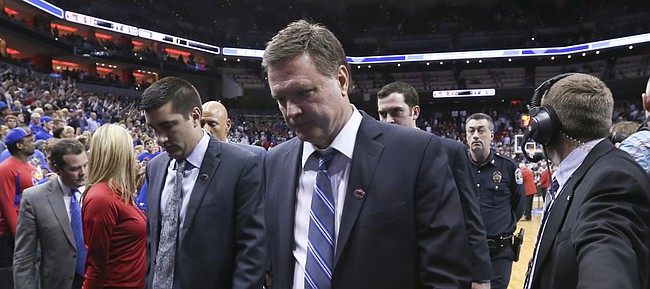 Any season that ends one loss to a No. 2 seed shy of advancing to the Final Four qualifies as a successful one. That's especially so in a year that included a 12th consecutive Big 12 regular-season title, a Big 12 tournament championship and 17 consecutive victories leading up to the elimination game.
At the same time, no loss in any other round stings quite the same as coming so close and then having to watch the Final Four on television.
Villanova coach Jay Wright captured the difference between reaching the Elite Eight and the Final Four in a news conference a day before his team threw a blanket over Perry Ellis and defeated Kansas University, 64-59, Saturday night in the Yum! Center.
"Huge," Wright said when asked about the difference. "It's monumental. ... The whole week leading up for the university is great, (and) for the alumni."
Elite Eight losses rank high among the toughest to stomach in sports.
"I think if you're in the NBA, you get to the finals, if you don't win, it's not that big of a deal," Wright said. "But getting to the Final Four, it's so big. It's defining."
Wright lost his first Elite Eight game in 2006 to eventual national champion Florida. Three years later, Wright took Villanova to its first Final Four since the school won the national championship in 1985.
"All of our young assistants from our Final Four team, the young guys, liked the graduate assistants, the video guy, they all are major assistants on major-college teams," Wright said. "I told our guys it's because people want people that were associated with the Final Four."
But in terms of assessing a team's accomplishments, it's just a one-game difference, and Villanova was better in that one game.
Villanova advanced by playing a cleaner game, turning it over nine times, compared to 16 for KU. The Wildcats (18-of-19 in both of its South Regional games) did a better job of cashing in opportunities at the free-throw line than Kansas (7-of-11), which was consistent with how both teams performed at the line all season.

Villanova remains in the hunt for a national title, and Kansas begins an offseason of reloading.
Next season's roster — no telling precisely what it will look like — probably won't be as experienced, but possibly as talented.
"They've done so much for the program," sophomore Devonté Graham said of KU's departing seniors. "Perry (Ellis) is going to be a KU legend. It's going to be tough moving forward without them."
It's never easy, but Kansas will find a way. It always does.