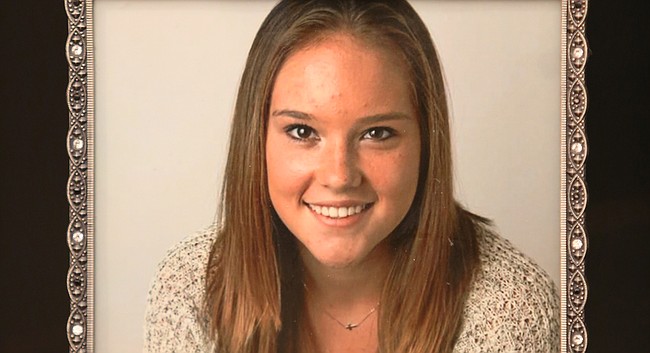 A woman who sued Kansas University, anonymously, for failing to properly address her sexual assault report came forward on Thursday.
"My name is Sarah McClure, or, as you may know me, Jane Doe 7, " she said, in a video statement. "I was a freshman at KU and a coxswain on the rowing team. I was assaulted by the same football player who assaulted another rower on the team. I chose to stand up for myself and reported him to KU, then KU did nothing for months."
McClure's father, Jim McClure, of Wilmette, Ill., and her attorney, Dan Curry, shared the video, which is also posted online, and spoke on her behalf at a press conference Thursday at Curry's offices in Kansas City, Mo.
Both Sarah, in the video, and Jim McClure addressed current national news reports of women being victimized by male athletes at major universities, including Stanford, where a swimmer received a light sentence after being criminally convicted of sexually assaulting an unconscious woman, and at Baylor, where the president stepped down and the football coach was fired after an independent investigation showed the school had long failed to respond properly to reports of sexual assault involving football players and others.
"Sarah at KU had a very similar experience in that no matter which direction you turn, there seems to be preferential treatment for athletes," Jim McClure said. "At times you scratch your head and say 'what happened to the law?'"
•••
Sarah McClure sued KU, under the name Jane Doe 7, on April 19 in Douglas County District Court.
According to her lawsuit, the football player sexually assaulted her on Aug. 29, 2015 — less than a week into the fall semester of her freshman year — in her room at Jayhawker Towers, where he also lived. She met him earlier that month through a mutual friend on the football team, according to the suit, which does not say more about the incident.
In October 2015, McClure filed a report with KU police. The man was not arrested or criminally charged, KU police have said.
About a week after filing the police report she reported the alleged assault to KU's Office of Institutional Opportunity and Access (IOA), according to her lawsuit. The football player — whom another rower, Daisy Tackett, also accused of raping her the previous fall — was expelled from KU after the office's four-month investigation found him responsible for misconduct, KU has said in related court documents.
McClure said in her video statement that it took too long and that IOA should have suspended him from school in the meantime. She said IOA did not follow through on promises like keeping her "safe" and that the office made it difficult to access the resources it claimed to have.
"They made my life a living nightmare," she said.
McClure's lawsuit accuses KU of failing to properly investigate her assault, failing to protect her from subsequent intimidation by the football player and allowing her rowing coaches to retaliate against her after she reported her assault, in violation of the federal Title IX law.
KU has not filed a response in court to the allegations in the Jane Doe 7 suit.
University spokeswoman Erinn Barcomb-Peterson said Thursday, in an email, that KU takes "very seriously" all claims of sexual violence.
"The university thoroughly investigated Ms. McClure's allegations, and as a result, the accused student is no longer enrolled at KU," Barcomb-Peterson said. "We are confident the courts will agree that we've met our obligations to both Ms. McClure and Ms. Tackett."
To protect the rights of all students involved, federal law prohibits the university from releasing details about individual sexual assault investigations, Barcomb-Peterson said.
•••
McClure completed her freshman year at KU, but said it was extremely difficult.
"I struggled every day. I couldn't sleep. I didn't leave my dorm room. I stayed inside with a chair under my doorknob because I felt so unsafe," she said in the video. "... I chose to stick it out and finish off the semester; I am a strong believer of finishing what you started."
Jim McClure said his daughter chose to come forward now that she is home from KU because she did not feel comfortable being named while she was still on campus. He said she does not plan to return to KU this fall, though she hopes to continue her education elsewhere.
McClure said his daughter, a successful high school rower, was recruited by a number of schools but chose KU because it felt "like coming home."
She's a legacy at KU, he said. Her great-grandfather, who was killed in World War II, graduated from KU in the 1930s and his name is inscribed in the memorial Campanile.
She has changed, McClure said.
She was a carefree, spring-in-her-step type of person but now is depressed and despondent, he said.
She is currently seeing a counselor three times a week and focusing on "healing."
In her statement, Sarah McClure lamented missing out on what should have been an "amazing" freshman-year experience, especially after her rowing coach excluded her from a team training trip to Florida.
"Rowing was my safe place," she said. "It was my place to be me and was a place where I could shine. I had a lot of power and knowledge of what I was doing. After coming forward I felt ostracized."
•••
Sarah McClure's lawsuit is one of three related suits filed against KU this spring.
On March 21, Tackett sued KU in a similar Title IX lawsuit. Tackett said the same football player raped her in his Jayhawker Towers apartment in October 2014, when she was a freshman on the rowing team. She reported the assault to KU a year later, upon hearing of McClure's assault by the same man.
Title IX is the federal law that prohibits gender-based discrimination in education and the law under which universities are required to investigate and take measures to prevent sexual harassment, including sexual violence, on their campuses.
On March 11, Tackett's parents, James and Amanda Tackett, filed a separate suit against KU under the Kansas Consumer Protection Act. That suit, which seeks class action status, accuses KU of misleading the public by representing campus housing as safe.
Curry, whose firm Brown and Curry LLC is representing plaintiffs in all three cases, said Thursday that Sarah McClure, Jim McClure and Daisy Tackett were joining the class-action suit.
He said the families hope KU changes the way it represents its housing.
"They need to be more up front about the very adult threats that are lurking in those dormitories," Curry said.
KU, in court documents, called Daisy Tackett's allegations "tragic" but denied that the university is liable under Title IX. In response to her parents' lawsuit, KU said that since neither Tackett nor her parents are current KU students they do not have standing to sue under the Kansas Consumer Protection Act.
None of the lawsuits name the alleged assailant or seek legal action against him.
Curry said he and the victims did not see any benefit in naming or suing the football player civilly.
He was expelled, Curry said, and "that's also where our interest ends."
Jim McClure said the man would have to live with his actions.
"I hope that he gets the help that he needs," McClure said, "because from my perspective, he needs help."
While the lawsuits do seek monetary damages, McClure said that to him the legal action was not about money. He said if any money is awarded that it would be donated to support sexual assault victims in Kansas.
"We believe that KU is a good school, it's a good institution, and there are good people," McClure said. Later in Thursday's news conference he added, "We can't change what happened. What we want to do is prevent this from happening again."
https://www.youtube.com/watch?v=fJMWs6-uiQc
Timeline of Jayhawker Towers sexual assault lawsuits
• October 2014 — Football player rapes KU freshman rowing team member Daisy Tackett in his apartment at Jayhawker Towers, according to Tackett.
• Aug. 29, 2015 — Same football player sexually assaults KU freshman rowing team member Sarah McClure in Jayhawker Towers, according to McClure.
• October 2015 — McClure and Tackett both report sexual assaults to KU Office of Institutional Opportunity and Access. McClure also files a report with KU police, on Oct. 19, 2015.
• December 2015 — Tackett and McClure are not allowed to attend rowing training camp in Florida. They contend coach excluded them in retaliation for reporting their assaults.
• February 2016 — Tackett withdraws from KU and returns home to Florida.
• March 11, 2016 — Tackett's parents, James and Amanda Tackett, sue KU under the Kansas Consumer Protection Act, accusing KU of misleading the public by representing campus housing as safe.
• March 21, 2016 — Daisy Tackett sues KU, alleging the university violated the federal law known as Title IX.
• March 2016 (approximately) — KU, following IOA investigation, finds football player responsible for misconduct and expels him. His name disappears from football roster.
• April 19, 2016 — McClure sues KU under Title IX, filing the lawsuit under the name Jane Doe 7.
• May 2016 — McClure finishes freshman year at KU and returns home to Illinois.
• June 9, 2016 — McClure, her father Jim McClure and Daisy Tackett join James and Amanda Tackett's lawsuit, according to attorney. Sarah McClure publicly identifies herself.