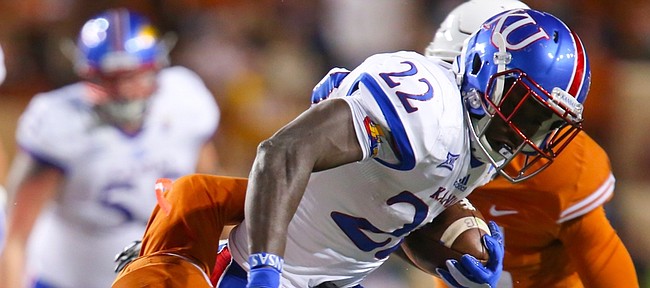 The Kansas University football program received some much-welcomed good news earlier this week, when Arkansas running back Denzel Evans revealed that he was planning to graduate early from Arkansas to transfer to KU.
Though still unproven, the addition of Evans would add depth and experience to a thin KU backfield.
But the Jayhawks gained help at that position this offseason in ways other than player additions.
The biggest was the chance for returning starter Ke'aun Kinner, a senior from Little Elm, Texas, who led the team with 601 yards and five touchdowns on 134 carries, to rest.
"I came here hurt," said Kinner, who battled injuries throughout his first season as a Jayhawk. "I didn't hurt my shoulder here. It had been hurt, I just never got it looked at and when I finally did get it looked at, it was pretty bad."
By "pretty bad" Kinner meant, "There was nothing holding it in the socket last year. (It came out) at least one time every game. But I could play through it."
That he did. Though he missed a few starts because of injury, Kinner appeared in all 12 games, which gave opposing defenses 12 opportunities to make that shoulder injury sting.
"I didn't really say anything about it because I knew I could play through it," he said. "But there were some things I couldn't do. Taking a hit on it didn't hurt, nothing like that. Stiff-arming, when I put my arm out there, it felt kind of weak, but that was the big one."
"It slowed me down because I couldn't really pass (block) that good. I would get ahold of them and they would twist and turn and whenever they did it would come out."
Kinner's toughness, along with his belief that there was no way he was going to blow the opportunity to be a featured back in the Big 12 Conference, was enough to make Kinner one of the more pleasant surprises for a Kansas offense that struggled to put up points for much of the winless 2015 season. And the fact that he enters the summer much healthier than he was at any point last season gives Kinner reason to think that the upcoming season could be even better than his debut.
Adding 11 pounds to his 5-foot-9 frame also should help. Last season, the back who once carried the ball more than 50 times per game on back-to-back Friday nights in high school, played at just over 180 pounds. By April of this year he was up to pounds and he said this spring that he hoped to be up to 196 by the start of the season.
"I actually feel like I can run with my weight," said Kinner noting that the extra bulk was a good thing. "That's the big thing. I didn't want to get a whole bunch of bad weight that I couldn't run with."
It's not just in the physical realm where Kinner feels better heading into his second season with the Jayhawks. He also feels like he has a much better handle on what it takes to play in the Big 12.
"I actually just feel more experienced," he said. "I've played it. And now it's just me going out there with this experience and perfecting my craft."