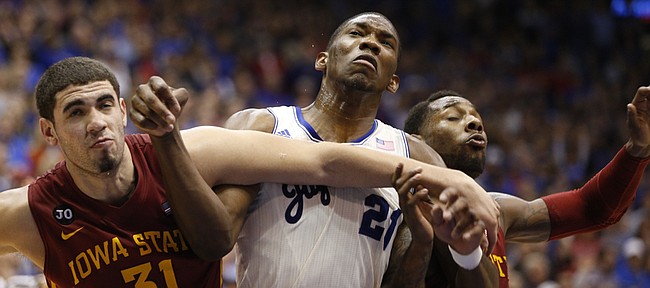 Iowa State senior forward Georges Niang has been involved in some epic basketball battles with Kansas University the past three years.
He has won three games — lost six — while pestering the Jayhawks on both the outside — where the 6-foot-8 senior forward can swish threes with the best of 'em — and on the inside, where he's capable of finishing dunks, layups and short bank-shots alike.
"I can say it now that he's gone. Joel Embiid was the toughest one (Jayhawk) to guard — 110 percent for sure," Niang said, asked to reflect upon players in the KU-ISU series.
The two teams tangle again in a Big Monday battle at 8 tonight in Hilton Coliseum, with a live telecast on ESPN.
"Whatever he had was working for him," Niang said of the 7-foot injured Philadelphia 76ers center.
Today, Niang will try to even his mark to 2-2 versus KU in Hilton Coliseum.
"The rivalry between KU and Iowa State has obviously stepped up a notch," said Methuen, Mass., native Niang, who averages 18.3 points and 4.6 boards in nine games played against KU.
"We're looking to prove ourselves, and they are trying to impose their will. The biggest thing is, I feel it's a renewed rivalry the last couple years. I think it's great for both programs," Niang added.
Niang, who averages 19.3 points and 6.4 boards his senior season for the Cyclones (15-4, 4-3), was a high school teammate of KU junior Wayne Selden Jr. at Tilton School in New Hampshire.
"Yeah, that's my guy. That's my brother. I'll always be close with him," Niang said, speaking to the Journal-World at Big 12 Media Day. "He's a great guy. When I talk to him, it's beyond basketball. I try to stay away from talking basketball. I try to just ask him how he's doing, how his family is doing and what's going on with him."
Selden respects prolific scorer Niang, who has hit 52.8 percent of his shots, 39.5 percent of his treys (32 of 81) in 2015-16.
"He can stretch the defense and has great touch inside," Selden said. "He can put it on the floor. Inside and out, he has a real feel for the game."
KU coach Bill Self likes to seek out Niang and joke with him at events such as Media Day.
"I told him I was a little bummed out I didn't get invited to Late Night at the Phog. He told me I'd never get invited to that, so I guess that's that," Niang said. "He's a good guy, a good sport. He's a lot of fun to be around off the court.
"He definitely has a respect for me. I respect that because I have a ton of respect for him in what he's done. He's a great human being and a great coach. I appreciate all the respect he's shown me."
Of Niang, Self said: "He's terrific, one of my favorite players in the league, without question. He's probably as tough a matchup as there is."
KU is 9-3 at Hilton in the Self era, losing last season's game, 86-81.
"I feel it gets pretty wild and pretty nuts, just as juiced up as I'd think KU would be," Niang said of games vs. KU in Ames. "I think the biggest thing is two teams competing, not wanting to see their team lose. If you have the hot hand, you will do what you can to not let your team lose. I think that's what it really comes down to."
NBA could wait: Niang, on why he returned to ISU for his senior season instead of leaving for the NBA: "It was the best thing for me to come back, work on myself. That UAB loss (in NCAA Round of 64) obviously stung (ISU was seeded 3, UAB 14). Why would I give up an opportunity to be with these guys and be able to compete for championships this year? That's something I didn't want to pass up, and I feel I wasn't ready for the next level just yet."
Road record: KU is 1-2 in Big 12 road games so far this season. "If you can go 5-4 on the road, you've had a helluva year — 4-5 would be a helluva year," Self said. "Certainly we're not off to a great start this year. The really good teams we've had ... you knew when you went on the road, if you played well, you'd win, and chances were, four of five you were going to play well. I don't have that feeling with this team. ... When we do play together, we look really good. Sometimes we get really stale and out of character."
About ISU: Monte Morris takes a 15.2 ppg average into today's game. He has 130 assists to 29 turnovers. "He could be as good as any true point guard in the country," Self said. Jameel McKay averages 13.2 ppg and 9.3 rpg. Matt Thomas has made 65 of 148 threes for 41.1 percent. ISU is 9-1 at home this season, losing only to Baylor, 94-89.
Road victory for Cyclones: Iowa State won at TCU, 73-60, on Saturday to improve to 2-2 on the road in league games.
"I haven't heard the players talk about Kansas all week," coach Steve Prohm said to the Des Moines Register after the game, "and I'm sure Kansas wasn't talking about us until now. The league is too good to look ahead to anybody. I've got a lot of respect for their program, (but) we had to come here and take care of business. I'm glad we won. Now we've got to get home, rest tonight, meet tomorrow at 4:30 and get ready for Kansas Monday night."