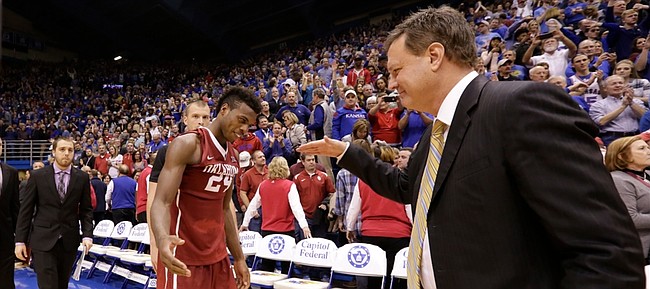 Tough to argue with Kansas University basketball coach Bill Self's opinion that Perry Ellis, Oklahoma's Buddy Hield and Iowa State's Georges Niang are the only three locks for All-Big 12 first-team honors.
It's much tougher to buy Bruce Weber's opinion that if Kansas wins the Big 12 title — not much of an if at this point — then Ellis deserves conference player of the year, even though Hield is Weber's pick for national player of the year.
It was gracious of Weber to show that sort of love for Ellis in particular and KU in general, but Hield clearly deserves the top individual honor.
Podcast episode
Kansas basketball coach Bill Self meets with media members at his weekly press conference, where the topic of KU's 12th consecutive Big 12 title dominated conversation. The Jayhawks are a win away from sealing up at least a share of the regular-season crown. Self says KU has plenty of work ...
I vote for the Associated Press All-Big 12 team and this is the time of year that I make my selections in pencil and then wait to see if results from the remaining three games force changes.
At this point, my selections:
Coach of the Year: Tubby Smith, Texas Tech. Remember when I predicted several weeks ago that with three games remaining Tech and Iowa State would be tied with 8-7 records? You don't remember? Neither do I. The Red Raiders carry a five-game winning streak into Allen Fieldhouse for a Saturday morning clash. Nobody could have predicted that. Self and Tubby, the two Big 12 coaches who have won national championships, are the two leading candidates for the honor.
First team: Hield, Ellis, Niang, Frank Mason, Monte Morris (Iowa State).
After watching Mason score 19 points and turn it over just once in 37 minutes in a 66-60 comeback victory at Baylor, Self identified Mason as the team's MVP. Self is very comfortable talking about where he thinks the junior point guard is falling short, a sure sign of how well the coach thinks he's playing. Coaches always push for more when they know players can handle it.
"There were several possessions when we had bad possessions against Baylor that I don't think he took charge of the possession," Self said of Mason. "You know, we had three shot-clock violations, and two of them may have been on him, just because he didn't — wasn't aggressive and he passed it to somebody else to go make a play when he should be the one putting his head down and trying to make a play at all times."
Lest he be construed as an ingrate, Self added, "But he's awful good and certainly he's great at getting in there, and he was terrific the other night against Baylor, but I do think that he can even be in attack mode a lot more."
Iowa State has been a disappointment, but that's not on Morris, a terrific point guard who belongs on the first team.
---
---