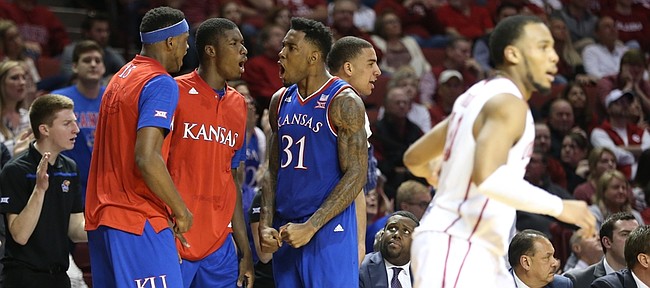 Kansas University freshmen forwards Cheick Diallo and Carlton Bragg Jr., who entered college as McDonald's All-Americans ranked Nos. 5 and 21 nationally by Rivals.com, have averaged 6.3 and 7.3 minutes a game respectively in Big 12 play.
Bragg has been used in all 15 games for the (24-4, 12-3) Jayhawks, while Diallo has played in all but one league contest.
Podcast episode
Kansas basketball coach Bill Self meets with media members at his weekly press conference, where the topic of KU's 12th consecutive Big 12 title dominated conversation. The Jayhawks are a win away from sealing up at least a share of the regular-season crown. Self says KU has plenty of work ...
Their conference-only numbers — 3.3 ppg and 1.9 rpg for Bragg and 1.4 ppg and 2.2 rpg for Diallo — won't put them on any 2015-16 Diaper Dandy awards lists, but have not disappointed coach Bill Self in any way.
"Those guys are going to get the last laugh on everybody. It's just going to take a little time," Self said Thursday. "People forget that the reason that the Morris twins started (2008-09 as freshmen) is because we didn't have anybody else. Marcus had to and Markieff was our first guy off the bench.
"People forget that Thomas Robinson averaged eight minutes a game as a freshman. But he had three lottery picks playing in front of him. And then Thomas finished second (for) national Player of the Year," Self added. "People forget Jeff Withey was the sixth best big man we had when he got here and he's second in all-time blocked shots in the NCAA Tournament. People develop at different stages, but for people to say that we don't play freshmen, that's the most ridiculous (thing). Other than Kentucky, who started more freshmen than we have?"
The only thing that's held Bragg and Diallo back, Self said, is the fact seniors Perry Ellis and Jamari Traylor, junior Landen Lucas and when healthy, senior Hunter Mickelson, have been effective players, too.
"On this particular team and this particular case, it's been better to have experience out there because even though there's great talent, the inexperience probably would affect us winning games right now," Self said. "They are working hard. They have great attitudes. I hate it when people make something more out of it than what it is. It's just how your team has evolved as the year has gone on. Every team does that."
Diallo and Bragg still are regarded as NBA prospects. Diallo is listed as the 31st pick of this June's NBA Draft according to ESPN's Chad Ford, while Bragg is not listed as a first-round possibility. Draftexpress.com has Diallo the first pick of the second round and Bragg not listed at all.
"Our attitudes have been great. And that's hard to be when you have highly-recruited kids. You can't keep everybody happy," Self said. " You recruit guys and sometimes it doesn't go exactly as scripted because if it went exactly as scripted, then all 13 guys would be lottery picks and play in the league. So much of it is timing. But I'm real pleased and proud of how our guys have hung in there and been really, really, really together and unselfish for the most part and been there when their number is called."
Of KU's other scholarship freshman, guard Lagerald Vick, who is not in the regular rotation, Self said: "Lagerald hasn't gotten much clock at all, but Lagerald is going to be a really good player. But I can't say that he's better than Svi (Mykhailiuk) or Brannen (Greene). But potentially, he's got a chance to be really good, and Cheick and Carlton, I think are going to be great. But the thing that has been important for us is this team also has to win. It's such a balancing deal because you want to do what's best for the kids, but on the flipside, what's best for the kids is playing the guys that are the best for our team."
Junior Lucas said the freshmen have been great at practice.
"They push us. When the older guys want to get complacent and a little lazy they are always going hard," Lucas said. "It keeps us on our toes, keeps us working hard. It's great. We're going to need them in a game so they just have to stay positive because there's going to be a time where maybe matchups or foul trouble happens and they can come in and provide a boost. They've kept a great attitude and it's really something I admire."
It's only natural players want significant minutes.
"Myself I've gone through moments where I felt the same way. I know it's even bigger for them because of the expectations they came in with. I can imagine it being hard, but we're part of something that's so big," Lucas said. "Trying to keep them focused that even if they come in and make one small play, if it's helping a team that's doing some big things, that's huge and they should really enjoy that."
Caucus conflict: KU coach Self was asked about an online petition at change.org trying to change the game time of the KU-Iowa State game (3 p.m., March 5) because it conflicts with the Kansas Caucus.
"I am not aware of that, but I don't think that ESPN is going to say, 'Let's do this for those reasons,'" Self said. "I think there's always conflict with something going on, regardless of when you schedule it. I guess we could schedule a game and then NASCAR could have something, too, or we could schedule a game and the Chiefs could be in an NFL playoff game. There's a lot of things, or there's something going on with the theater or whatever. Certainly that's very important what's going on from obviously a political standpoint, but I can't see that will get moved. I think it's fascinating, everything that's going on (politically). It's disappointing it's the same time, I guess. But I think that we'll both live and it won't be too negative for either one of us."
---
---