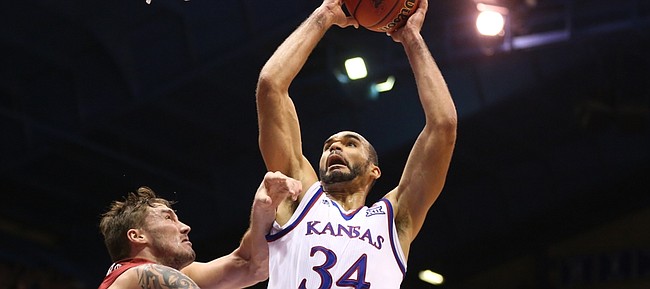 A pair of successful purple tuneups in Lawrence and Fort Worth checked off the schedule, gut-check week has arrived for a Kansas University basketball team that like most top 10 squads doesn't always play like it or feel like it.
Kansas heads into the week with a 19-4 overall record and a 7-3 conference record, good for a second-place tie with Oklahoma and Texas, one game behind West Virginia, one game ahead of Baylor and Iowa State. That's right, one hole into the back nine, six schools remain in the hunt for the Big 12 title.
Nationally, the scramble for No. 1 is no less crowded, no easier to try to project.
The Jayhawks could move up a spot from their No. 7 ranking when the new Associated Press poll is released early this afternoon.
Despite the lofty ranking, only a sweep this week can sustain the positive mojo generated from lopsided victories against the Horned Frogs and Wildcats.
The answer to the question regarding these bouncing around so many minds — was that 1-3 road start to the conference season just a bump in the road toward a 12th consecutive Big 12 title, or is this team not quite championship-caliber? — awaits.
West Virginia, a pest of an opponent because of relentless offensive rebounding and defensive pressure, visits Allen Fieldhouse on Tuesday night.
Four days and 333 miles later, Kansas visits Oklahoma for a rematch of the 109-106, triple-overtime blast won by KU in Allen Fieldhouse.
Kansas coach Bill Self talked about his team in a way many coaches talk about theirs. Great? No. Able to beat anybody when playing smart, driven, unselfish basketball? Sure, why not?
"I love our roster," Self said, perhaps embellishing a touch. "I don't know that there is a team in America that can say they've got everything. Last year's Kentucky team could say they had everything. They had shooting. They had depth. They had shot-blockers, big bodies. They could probably try to fit whatever the other teams were trying to do against them. We're not like that, but we do have bodies, and we do have good players."
This week will reveal so much about how badly the Jayhawks want it and how capable they are of withstanding pressure and physical play, which West Virginia brings, and how well they can defend a team blessed with quick athletes who can shoot, of which Oklahoma has many.
West Virginia (19-4) ranks No. 1 in the nation in steals and offensive rebounds, both reflections of their quickness and relentless aggressiveness. The Sooners (19-3) lead the nation with a .453 three-point shooting percentage.
"To me, when we play the right way, I think that we're really good," Self said. "I do. I love watching our team play when we play the right way. When we don't share and we're not aggressive and things like that, we can get average, and talent doesn't prevail with us. That's why I think it's so important, the habits of energy and things like that."
If the urgency of this week's schedule doesn't bring out the best in the Jayhawks in those areas, you have to wonder what will.