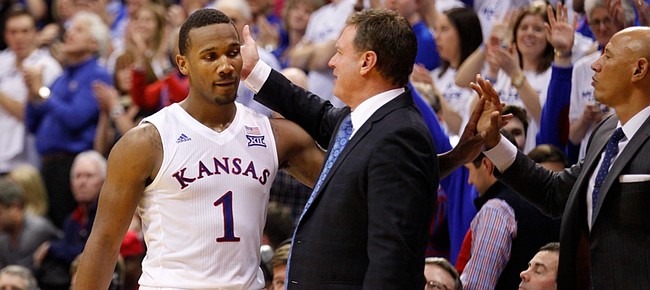 Wayne Selden Jr. has a lousy game Saturday against Kentucky, Kansas University gets blasted on its home court, and the team's stock plummets to its lowest point in years.
That's not overstating the impact of Selden's career night Saturday in a 90-84, overtime victory against Kentucky.
Instead, Kansas heads back into Big 12 play brimming with confidence with 10 games left on the league schedule.
Selden played 44 minutes, scored 33 points, made 12 of 20 field goals, six of eight free throws and three of five three-point shots.
Podcast episode
Kansas basketball coach Bill Self meets with media members to discuss (once again) the Jayhawks' overtime victory over Kentucky, as well as the Big 12 race, KU's defensive issues and much more —including Wednesday's rivalry game with Kansas State.
"I don't know if he's had a more complete game since he's been here," Kansas coach Bill Self said Monday. "He's had games where he maybe scored making threes. Florida obviously last year comes to mind in the second half, and there's been other games, but, I mean, he was a complete basketball player on Saturday."
Selden again found himself in the stands after chasing a loose ball and batting it back into play. It's his signature move.
"That was a great play," Self said. "We didn't capitalize because we didn't score, but that was a great play. Wayne made a lot of really good plays throughout the game. It was also a big play when he took the charge on (Alex) Poythress late in the second half."
Selden not only had the best game of his career, but a case could made that no Jayhawk ever had a better game during Selden's three seasons in a Kansas uniform.
A case could be made that the last Jayhawk to have a better game was either Ben McLemore (36 points, 12 of 15 field goals, five of six threes, in 30 minutes in a 91-65 rout of West Virginia on March 2, 2013) or Elijah Johnson (39 points, seven assists, five rebounds in 108-96 overtime victory in Ames in the Melvin Weatherwax game on Feb. 25, 2012).
Sure, Andrew Wiggins had a remarkable game and totaled 41 points, eight rebounds, five steals and four blocked shots in Morgantown, W.Va., but Kansas lost that game. Wiggins also had a monster game in a 77-70 overtime victory against Oklahoma State in the Big 12 tournament, with 30 points, eight rebounds and three steals to go with five turnovers.
Selden's game might not have been any better than that Wiggins effort, but it was every bit as good. Selden showed far more than a soft shooting touch on his way to a career-high.
"He took five threes in the game in which he played 44 minutes, which is a low number, but he drove it so well," Self said. "He got to the free-throw line more, and he even got an offensive rebound putback. He scored many ways."
Selden has made 35 percent of his three-pointers in KU's four losses, 50 percent in its 17 victories.
"I do think his driving the ball should set up his shot as opposed to the other way around," Self said. Because he shoots it plenty good enough that people are going to have to guard him. They're going to have to close out. But he's got to take advantage of those bad closeouts, and he did a much, much, much better job against Kentucky."
Even though Selden had gone through a mini-slump leading up to the Kentucky game, scoring 11 or fewer points in five of six games, his production has soared in several statistical categories compared to last season: Points per game (15.4/9.4), field-goal percentage (.511/.382), three-point percentage (.473/.365), steals (1.0/0.6).
— Tom Keegan appears on The Drive, Sunday nights on WIBW-TV.