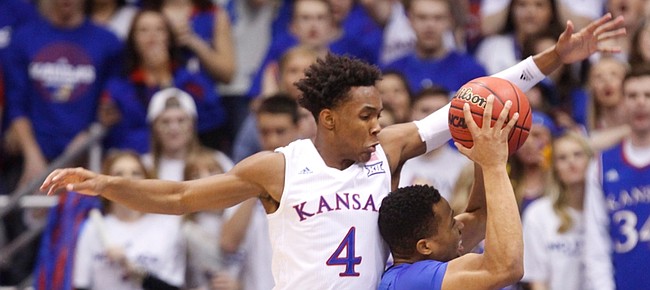 Sick of seeing Kentucky point guard Tyler Ulis score seemingly at will during the first half Saturday in Allen Fieldhouse, Bill Self asked his Kansas University basketball players if it was time to implement a 2-3 zone.
"We were, like, 'No.' That's not the way we're going to be able to win games. We've got to be able to defend. We've got to be able to keep guys out of the lane," KU sophomore guard Devonté Graham said.
"I think it was me, Frank (Mason III), Wayne (Selden Jr.) and Lando (Landen Lucas). All of us didn't want to play 2-3 zone. It seems like the easy way out. We just want to defend," Graham added.
Podcast episode
Kansas basketball coach Bill Self meets with media members to discuss (once again) the Jayhawks' overtime victory over Kentucky, as well as the Big 12 race, KU's defensive issues and much more —including Wednesday's rivalry game with Kansas State.
Despite the players' best efforts of persuasion, KU coach Self felt he had to do something drastic, with Kentucky on its way to scoring 46 first-half points in the Jayhawks' 90-84 come-from-behind, overtime win.
"Our guys don't want to play zone," Self said. "During the first half, I said, 'Let's play 2-3, and they're, like, 'No, we can go on them, coach,' which we didn't.
"But we went 2-3. You (media) don't even know that two possessions in the first half they scored five points, because both of the points on both possessions were in transition where guys didn't run back to their spots and whatever."
Self abandoned both man-to-man defense and 2-3 zone for a triangle-and-two the second half to help slow Ulis, who finished with 14 points and five assists the first half and 12 points and three assists the second half and OT.
"Our guys know we want to hang our hat on (man-to-man) and then sprinkle in other things. But certainly the triangle-and-two, it did bail us out Saturday whenever Willis (Derek, six points) wasn't in the game," Self said.
Graham, who said good man-to-man defense "is all mental, pride, heart, you've got to buckle down and guard your man," hopes the Jayhawks' improve their staple defense so they won't have to use zone again.
"We're not used to playing zone. Kansas isn't used to playing zone like that," Graham said. "We're just (used to) matching up with our man — 'mano y mano' — and shutting that guy down. It's definitely a pride thing."
Asked who is KU's best one-on-one defender, Graham said: "I'd say me, Frank and Lagerald (Vick). Lagerald is a pretty good on-the-ball defender, especially in practice guarding me, Frank and Wayne. He's pretty quick. Then (after Vick) I'd say me," Graham added, smiling.
"Lagerald is growing. He gets better every day. He's starting to find his place. As a freshman, you don't really know what you are supposed to be doing. He's kind of finding that little mojo of his. He's definitely doing well."
Asked a question Monday of how shooting guards Brannen Greene and Svi Mykhailiuk have been faring in practice of late, Self brought up Memphis freshman Vick.
"They've been fine. Lagerald's been the best guy off the bench in practice, and we tried to play him the other day, and that was probably too big a stage for him this early because we hadn't really given him a chance to play" Self said.
"Of those three, I would say Lagerald has been the most consistent of the three. But you always want to have somebody in there that can stretch the defense and shoot the ball. Thing about it with Brannen, the other team's always going to have to guard him because he does shoot it so well."
Greene had seven points and four boards in 10 minutes, while Vick missed one shot and had a foul in two minutes, and Mykhailiuk didn't play versus UK.
Self said after the game that freshman forward Carlton Bragg Jr. (six points) and Cheick Diallo (two) would continue to be called upon as the Big 12 slate resumes Wednesday against Kansas State (8 p.m., Allen).
"They have played better in practice, primarily Cheick," Self said. "Cheick's played better the last couple days in practice, and I thought he was pretty good, and Carlton obviously made some shots and played well. Those eight points of jumpers (three buckets by Bragg, one by Diallo) kind of bailed us out when Perry (Ellis) wasn't in the game (because of foul problems). So they were very important there.
"We played triangle-and-two at least half the second half. Our veteran guys have a much better chance to play that well than what Cheick and Carlton do because we haven't practiced much of late."
Mickelson day to day: KU senior forward Hunter Mickelson, who missed the Kentucky game because of a high ankle sprain, remains questionable for Wednesday. He's listed as day to day.
Selden shines: Self praised junior guard Selden, who scored a career-high 33 points versus UK, on Monday's "Hawk Talk" radio show.
"He looked like a complete player," Self said, noting Selden scored by getting to the basket, with an in-between game and also by hitting threes. "Without saying too much, he's put himself in a position he probably made himself some money on Saturday (emerging as NBA prospect), even though there's a lot of ball (left). There's opportunities to lose it, and there's opportunities to make more. Certainly he put himself in a good place nationally because he did so many good things," Self added.
Bolden cuts KU: Marques Bolden, a 6-10 senior forward from DeSoto (Texas) High who is ranked No. 16 nationally by Rivals.com, has cut KU from his list of schools following the recent commitment of Udoka Azubuike. Bolden has a list of Duke, Kentucky, Oklahoma and TCU.