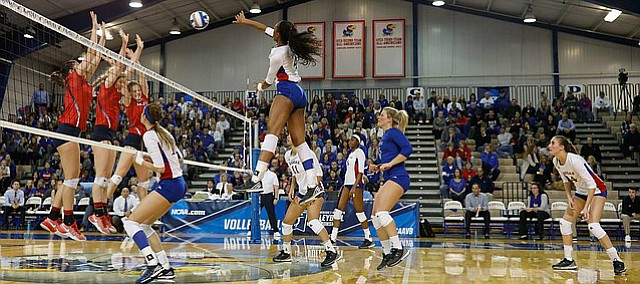 Kansas swept its way into the second round of the NCAA volleyball tournament Thursday night in Horejsi Center, but the coach on the receiving end of the broom didn't sound overly impressed with the Jayhawks.
Samford, a private school from Homewood, Ala., that plays out of the Southern Conference, made some runs at Kansas, drawing particularly close late in the second set, but KU prevailed 25-19, 25-21, 25-17.
Afterward, Samford coach Keylor Chan was asked if it's difficult to identify weaknesses to go after against a Kansas team seeded fifth overall in the tournament and carrying a 27-2 record into tonight's rematch with Creighton, which advanced on a thrilling five-set victory against Northern Iowa.
"No, they definitely have some. I mean, they do," Chan said of the Jayhawks' weaknesses. "As they move on in the tournament, they're going to get exposed, you know. I think we did the best we could with what we have."
In his first year at Samford after spending 15 seasons at Northwestern of the mighty Big Ten, Chan then listed where he thinks Kansas will run into trouble.
"I think that they have some serve-reception issues and I think they have some middle-hitter issues that'll become pretty glaring when they get to some teams that can really exploit them," Chan said. "But you know, I mean, Kansas is very talented, they very much are. But they definitely have some things that you can pick on. We just couldn't do it well enough tonight."
Kansas, coming off its first Final Four appearance in 2015 and first Big 12 title this season, wasn't at its dominant best Thursday and suffered from fits of inconsistency. In contrast, freshman Jada Burse was at her best.
Not polished enough to appear in early season matches, including the five-set thriller of a victory for KU at Creighton on Sept. 8., Burse didn't make her first start until the 12th match of the season, Sept. 17.
A right-side hitter for her club and high school teams, Burse, a former basketball player, needed to make the switch to outside hitter because Kelsie Payne, a 2015 All-American and 2016 Big 12 player of the year, plays on the right side.
It was among many adjustments to the college game that Burse, a high-flying, hard-hitting explosive player needed to make to work her way into the lineup.
Her steady improvement led to a big night for her in her NCAA debut. Burse isn't one of KU's five players to have earned first-team Big 12 honors at least once, but she did lead the Jayhawks in kills with 14 and had a .344 hitting percentage.
Payne, against whom Samford focused its defense, added nine kills and had a .571 hitting percentage.
"I started off kind of nervous, but after a couple of kills I was fine," Burse said.
That describes how her season has gone as well.
"I was really nervous at the beginning of the year because I have never played outside before," Burse said. "Outside hitter is a big role to play. It's nothing but fun now. I try not to think too much about that stuff now. It helps me a lot by not overthinking and just playing."
The light went off for her, she said, "when I started getting more comfortable in practice, probably toward the beginning of conference. That's when I started to get more comfortable and there was better chemistry with (setter) Ainise (Havili).
Teammate Madison Rigdon said of Burse, "She's become a great player and I'm really excited to play next to her."
Kansas coach Ray Bechard didn't like everything he saw in his team, but had nothing but praise for Burse.
"She's making more volleyball plays, not just athletic plays," Bechard said. "I think the light came on for her about six weeks ago when she said, 'I belong here. I'm a good enough volleyball player.' That was a great NCAA debut for her."