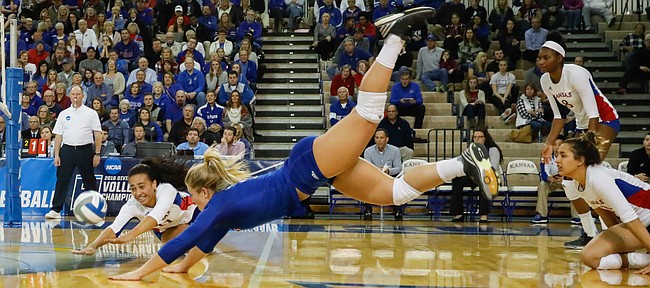 A lot has transpired in the world since Creighton's volleyball team faced another one of the nation's best, Kansas, on a Thursday night in September. So sophomore Bluejays outside hitter Jaali Winters gets a pass for not recalling many of the finer details of the last meeting between the two programs ahead of the rematch — Friday night in the second round of the NCAA Tournament.
Creighton led the five-match thriller, 2-1, before the Jayhawks rallied for the road victory and Winters put away 21 kills. But after the Bluejays knocked out Northern Iowa, 3-2, Thursday night at Horejsi Family Athletics Center, the first KU-related memory that popped to the top of her head was one hustle play from junior Ainise Havili.
"I remember that the setter broke our laptop," Winters replied, when asked to dredge up her recollections from a Sept. 8 loss that came weeks before Creighton embarked on its still active 21-match winning streak. "I remember how scrappy they are and that was obviously one of the very scrappy plays," she said of Havili crashing into press row to keep a point alive.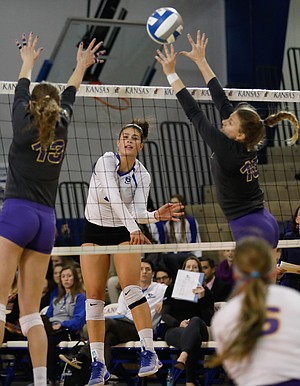 "So I know that they're gonna get after it and obviously we're gonna get after it, too. It'll be a great battle — if they win."
Winters' analysis came shortly before Kansas, the No. 5 overall seed in the tournament, swept Samford in three sets to make the rematch (6:30 p.m at Horejsi) official.
Since Creighton (27-6) lost to KU (27-2) on its home floor, the Big East champions have only experienced two other setbacks — at Nebraska, the top overall seed in the tournament, and at Kansas State, the 14th overall seed. The Bluejays' undefeated march through conference play only included five lost sets. Despite all those successes, head coach Kirsten Bernthal Booth, of course, had a much clearer picture in her mind of an early non-conference meeting in which Kansas took the final two sets, in Omaha, Neb., earlier this season.
"Everyone talks about Payne," Booth said of Kelsie, KU's sophomore right side hitter, the Big 12 Player of the Year. "Payne did not play well against us (11 kills, seven errors). So we obviously know that she's kind of got her mojo going."
Booth called Cassie Wait one of the nation's top liberos and outside hitter Madison Rigdon KU's glue.

"That kid does it all," Creighton's coach said of Rigdon, who put away a match-high 24 kills the last time the teams met. "You set up one way and she's gonna go someplace else."
The praises didn't stop there, as Booth referenced Tayler Soucie, Jada Burse and Havili.
"Obviously their setter's a stud," the coach said. "And she can break laptops."
For Creighton freshman libero Brittany Witt, though, the feeling after that loss to KU sticks out more than anything.
"I just remember that we were like, 'We could've won that. We should've won that.' So I think definitely going into tomorrow's match — if they win — is we definitely want revenge," Witt said. "But I think coming out of that game we knew that we could've won it. It made us work even harder throughout the season to win those fifth sets."
The Bluejays came so close to knocking off Kansas, which rallied to edge the home team 28-26 and 15-13 in the final two sets, Jayhawks head coach Ray Bechard found it difficult to look back upon it with fondness.
"It was two-and-a-half hours, and it was just like pulling teeth to score a point," Bechard said. "Both teams worked defensively and you felt like you were at the dentist for a couple hours."
However, Bechard added, that came before the emergence of Burse, a freshman whose 14 kills led the team against Samford.
"But they are much, much improved, also," KU's coach added of the Bluejays, "so I think it'll be a great match tomorrow."
Kansas, the Big 12 champion, limited Creighton, winner of the Big East, to a .157 hitting percentage — well below its .281 season average — in the regular season. KU is 9-1 all-time against the Bluejays, and 6-0 at home.