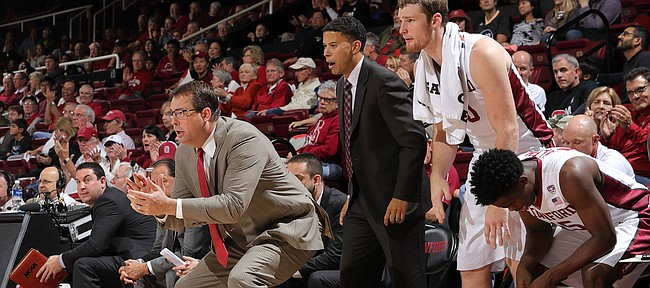 Plenty of visiting head coaches have been serenaded with loud and proud boos raining down on them from the Allen Fieldhouse bleachers throughout the years.
But it takes a special set of circumstances for a coach, other than the one sitting on the Kansas bench, to receive a warm welcome from Jayhawk fans.
That figures to be what takes place a little before 2:30 p.m. Saturday, when former KU standout Jerod Haase is introduced as the head coach of the Stanford men's basketball team, in town to take on the Jayhawks on ESPN.
KU coach Bill Self, who did not coach Haase but has great admiration for the way he played, knows this. And Self has just one request for the 16,300 Jayhawk fans who, undoubtedly, will want to welcome Haase back in style.
"Unfortunately, the reaction will be he'll be the most loved head coach in the building," Self joked Thursday. "So that'll suck. But he deserves that. He was a tremendous player and a popular player here, and he's done a really good job after he left here to go to Carolina and UAB and now Stanford, so, whatever ovation or response that Jerod gets, from a positive standpoint, is one which he richly deserves."
Asked via telephone on Thursday night about Self's comments, Haase laughed them off and did his best to set the record straight.
"It's awfully flattering of him to say," said Haase in an interview with the Journal-World. "But we both know the truth on that one."
Saturday's showdown will be the first meeting between Self and Haase as head coaches, but their paths have crossed on the recruiting trail and both seem to have a great deal of respect for the way the other does the job.
"Out recruiting, I've been able to spend a little time with him and, obviously from afar, I've just been watching what he's done with the program and I've been amazed and impressed," Haase said of Self. "All the former (KU) players take a great deal of pride in the program and we all appreciate that they've been so successful."
Although returning to a venue in which he became a fan favorite and was a part of some of the best teams in school history from 1994-97 will bring with it all kinds of emotions that Haase said might not yet have hit him, this kind of experience is not without precedent.
While coaching at UAB for four seasons, where he went 80-53 from 2012-15, Haase twice faced Roy Williams, the man he played for at Kansas and learned under at North Carolina, losing at North Carolina and beating him at UAB.
Haase said getting through those games made him believe he could get through something like returning to Allen Fieldhouse, which he cannot remember the last time he visited.
"I think it'll be difficult up until game time," Haase said. "But then once the game starts my guess is I'll be able to lose myself in the game and coach our team to the best of my ability."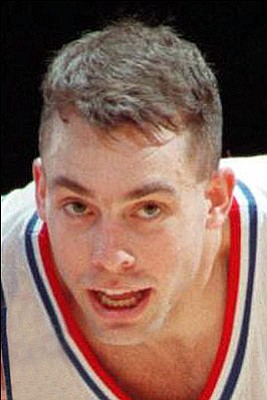 Asked to give his favorite Allen Fieldhouse memory from his playing days, Haase, ever the overachiever, provided two.
"Probably Senior Night, you know, the last game at Allen Fieldhouse I thought was really special," he said. "The other one that I'll always remember was when I was recruited there and I walked into the Fieldhouse for the first time and the lights were off and then (they came on) and I saw it and really got a sense for what it was."
Several of the names, faces, renovations and relocations that Haase will encounter on Saturday will be new. But one thing that won't is the home team trotting a wildly talented team onto the floor just before tip-off. Haase was a part of that 42 times during a 101-game KU career in which he averaged 12.5 points, 3.8 rebounds, 3.4 assists and 1.7 steals per game.
"There's a lot more similarities than differences to a typical Kansas team," said Haase when asked for his quick thoughts on the 2016-17 Jayhawks. "They have a great deal of talent, they play hard, they're athletic, their guard play is phenomenal and we're gonna have to be able to handle pressure and handle the environment and those are tall tasks.
"To have a chance to compete in Allen Fieldhouse it's going to have to be truly a full team effort."
Few coaches who have come through here before have been able to say that with such intimate knowledge. And even though Haase will be making his first appearance against the Jayhawks as a head coach, it seemed as if it was supposed to happen sooner rather than later. Had he not elected to leave for Stanford, Haase would have been the head coach at UAB, which faced the Jayhawks in the CBE Classic last week.
"Pretty unique situation," Haase said. "This was the year, I guess."