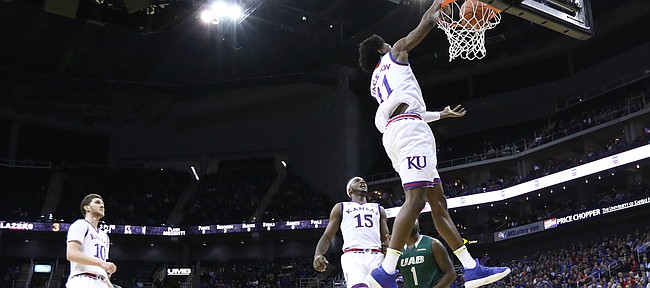 When I study the faces of those who pay good money to watch Kansas play basketball, I try to guess what plays are replaying in their minds as they move toward various parking lots at home and on the road.
My guess is a higher percentage of those plays were created by Josh Jackson than any player Bill Self has coached in his 14 seasons in Lawrence.
The loudest plays happen closer to the ceiling than most athletes can reach. Remember the tomahawk dunk against UAB in Sprint Center and the blink-and-you-missed-it blocked shot vs. Siena in Allen Fieldhouse?
Jackson also makes more memorable plays on the floor diving for loose balls than most, not a common trait among freshmen ranked No. 1 in the nation in their high school class. Remember that possession he stole at the end of the half when he missed a free throw and hit the floor to retrieve it in time to feed Lagerald Vick a bucket with one second left in the first half of the UNC-Asheville game?
And memorable plays happen when he is on his fast-moving feet, such as that bounce-pass in transition with which he hit Svi Mykhailiuk in the rout of Long Beach State. They also happen when he's on his feet at the other end of the floor. He plays the passing lanes as well as any Kansas player since Mario Chalmers.
He's so active all the way from the floor to well above the rim at both ends of the floor and in transition in both directions.
Self has brought a number of versatile performers blessed with long arms and quick feet through Lawrence, but I can't think of one who put his stamp on so many different areas of a basketball game to the extent Jackson consistently does. His ball security and shooting success can run in streaks, but his effort ensures that on off nights in those areas, he'll still contribute in others. He doesn't disappear for stretches. You always know he's on the floor.
It's not too early to project Jackson as one of three Kansas players, joining Frank Mason III and Devonté Graham, capable of earning Big 12 Player of the Year honors. I was curious if any other player in the conference stuffs a box score with as much variety as Jackson, so I researched the numbers. The answer is no.
The Big 12 tracks the top 20 in scoring and rebounding, the top 15 in assists, steals and blocked shots. No player other than Jackson appears in all five categories, even though he's not in the top 10 in any one of them. He ranks 11th in scoring (14.1), 17th in rebounding (5.7), 15th in assists (3.3), tied for 10th in steals (1.6) and 13th in blocked shots (1.1).
Only one other Big 12 player appears in four categories. Iowa State's Deonte Burton ranks 12th in scoring (14.0), first in rebounding (8.5), tied for 15th in steals (1.5) and 12th in blocked shots.
Someone asked 14th-year Kansas coach Bill Self after Tuesday's 91-61 rout of Long Beach State if he ever has had such a versatile freshman at Kansas.
"No, no, no, he can do more things," Self said. "He was really good tonight and active. He's got great vision. He can pass and can alter (shots) and is getting more active defensively. He's probably as all-around as any freshman we've had who can do a little bit of everything."
Or sophomore, junior, or senior. Game after game, opposing coaches marvel at Jackson's versatility.
"To me, that spot's critical," said UNC-Asheville coach Nick McDevitt of the one Jackson plays. "When these guys play big teams, he's a guy who can help you rebound because of his size and athleticism. When you play teams that are smaller and wanna really get after you, he's the the extra ball handler."
There isn't anything opponents can throw at Kansas that Jackson can't help to counteract, even zone defenses. His shot isn't as advanced as the rest of his game, but he passes so well from the middle of zones he's capable of making coaches regret using them.
"When you've got a big wing like that who can help you on both the glass and beating the press it makes them awfully big and tough to handle when he's out there," McDevitt said. "That a kind of size, with (Lagerald Vick) and Josh Jackson throwing over the top of zones and throwing over the top of ball pressure to more size..."
He didn't finish the sentence. Going that far was depressing enough.
Jackson brings a surplus of smarts, talent and desire to the equation, so there is no reason to believe that he will do anything but steadily improve during his one season in Lawrence. Add it all up and that means he is well on his way to becoming the best Kansas player Self has coached.