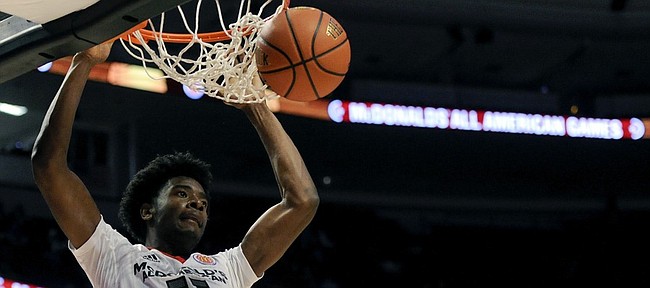 Today, for the second time in four years, Kansas University's basketball program is in position to land a commitment from the country's No. 1-rated high school player.
The Jayhawks — who plucked Andrew Wiggins from the top of the prospect list in 2013 — today will learn if they've beaten out Michigan State and Arizona for Josh Jackson, a 6-foot-7 senior shooting guard from Prolific Prep High in Napa, Calif.
Jackson, who is originally from Detroit, told reporters at Saturday's Nike Hoop Summit in Portland that he would travel to Michigan on Sunday, inform his family members of his choice sometime today, then post his decision on Twitter. As of Sunday night, there was no news conference planned and no details as to the time of Jackson's Twitter announcement.
If Jackson selects Kansas, he would immediately take over for Wayne Selden Jr. on the wing and be all but guaranteed 30 or more minutes a game for his one-and-done college season.
For the past couple of weeks, recruiting analysts have listed KU as the leader for Jackson. Website 247sports.com, which offers predictions on individual prospects, lists KU as having a 68 percent chance to land Jackson. Michigan State stands at 18 percent and Arizona 14 percent.
"Kansas is my pick. I think he likes the small forward career of Andrew Wiggins and how well Wayne Selden has progressed," Reggie Rankin of ESPN.com, told USA Today.
Detroit Free Press writer Joe Rexrode, who covers Michigan State, also goes with KU.
"I should predict Arizona, because that's the only thing I can't see Jackson saying when he finally utters his choice. And I'm not very good at predicting these things," Rexrode told USA Today. "I've heard compelling reasons in the past few weeks for both Michigan State and Kansas. I believe that at one point he was set, or close to set, on MSU. But I am going with Kansas, the choice that will please his mother."
There has been a rumor going around that Jackson's mom, Apples Jones, prefers KU over MSU and 'Zona. She and her son were in Allen Fieldhouse for the KU-Texas game on Jan. 23. Jones, who grew up in Detroit, played basketball for two years at Allen County Community College in Kansas before competing a season at UTEP.
So what type of a player is Jackson, who averaged 26.9 points, 13.1 rebounds and 6.3 assists per game last season at Prolific Prep?
"Has a KG motor," ESPN analyst Fran Fraschilla tweeted, comparing Jackson's energy on the court to that of Kevin Garnett.
Analyst Jerry Meyer tweeted this while watching a Nike Hoop Summit scrimmage on Thursday: "Jackson goes between the legs in the lane past a good defender right into a vicious dunk off two feet. Made it look way too easy."
Jackson had seven points and four rebounds in Team USA's 101-67 victory over World Select team on Saturday. He scored 19 points in the McDonald's All-America game and emerged as co-MVP with Duke's Frank Jackson.
"Jackson is a tough and athletic forward who is a fearless competitor. He has established himself as a tenacious rebounder and he plays with a never ending motor," reads ESPN.com's "scouting report" of Jackson.
"Comfortable and confident in both a fast-paced game or a grind-it-out affair Jackson displays versatility and his productivity level is at a double-double clip. Explosive with the ball in his hands or with his vertical bounce, he displays excellent body control to match his athletic ability. He also is a great decision-maker when being pressured and plays with a solid basketball IQ which enhances his assist game.
"Jackson has the toughness and quickness to be a multiple position defender. He already utilizes his physical tools to protect the rim with his shot blocking prowess and is a high steal guy anticipating passing lanes."
His weaknesses according to the ESPN profile: "Jackson needs to become more efficient with the use of a dribble move and become consistent behind the arc without sacrificing his inside game. Currently he is shooting a poor percentage from the free throw line — a statistic that must improve as he grows in the game. He has triple-double potential if he stays in attack mode at all times and not choose to blend into the game at times."
ESPN's bottom line: "Jackson is a versatile wing that is tough, competes and has an excellent motor and feel for the game. His explosiveness is elite and he is the ultimate finisher. When he adds a consistent perimeter jumper and as he continues to learn the game his development takes a huge leap forward."
Jackson is listed as ESPN analyst Chad Ford's No. 1 pick in the 2017 NBA Draft.
"There's no real consensus among NBA scouts about who should be the 2017 No. 1 pick, but Jackson was the player mentioned most often among the scouts with whom I spoke," Ford wrote on Sunday. "It doesn't take long to see why. He's a long, explosive wing who plays with an elite motor and competitiveness on both ends of the floor. He's aggressive without ever being selfish. He can be a relentless driver to the basket, excellent passer (he might even be able to play a little point guard) and defender of at least three positions on the floor.
"His jump shot is his biggest weakness right now. If it isn't broken, it needs a lot of work. He can also be overly competitive at times (think Marcus Smart), which can get him and his team into trouble. But no one wants to win more than him. He's like Michael Kidd-Gilchrist with a more refined offensive game.
"He has narrowed down his school choices to Kansas, Arizona and Michigan State, with most folks here thinking he'll likely pick Kansas. If he does, he should be a perfect fit in Lawrence, and I think he'll have the best chance of hearing his name called first in June 2017. I don't think there's a player in this class with more upside."