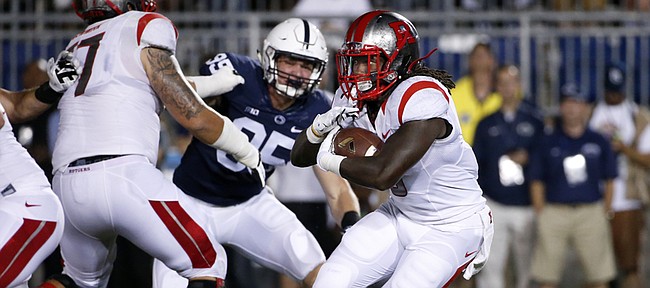 Kansas Jayhawks (0-2) at Rutgers Scarlet Knights (1-2)
11 a.m. Saturday, High Point Solutions Stadium, Piscataway, New Jersey — Game-time forecast: 72 degrees, mostly cloudy, 0 percent chance for rain, winds 10 mph from the northeast — TV: Big Ten Network
Log on to KUsports.com for our new-look live game blog coverage and follow the KUsports.com staff on Twitter: @KUSports @mctait @TomKeeganLJW and @bentonasmith
---
Keys for Kansas
1 . Stop the run
It's not just preventing yards on the ground that will benefit Kansas University if it is able to stop Rutgers' rushing attack. A good showing by KU's players up front also would go a long way toward handcuffing Rutgers' passing attack. The Scarlet Knights rank just 75th in the country (10th in the Big Ten) with 177.3 rushing yards per game, but so much of what they do in the passing game is set up by the run. Sophomore quarterback Chris Laviano loves the play-action pass, and he leads the Big Ten in completion percentage (72) and is fourth in pass efficiency. In its lone victory over Norfolk State in the season opener, Rutgers ran for 291 yards on 47 carries. The Knights haven't combined for that many rushing yards in the two games since and wound up losing both, including last week's 28-3 setback at Penn State in which RU ran for just 43 yards on 32 carries.
2 . Handle life away from home


KU coach David Beaty talked a lot early this week about how his coaches have prepared this young roster for what to expect from their first road game. But there's only so much a coaching staff can do to get guys truly ready for playing in an unfriendly venue. In terms of game prep, Beaty said the Jayhawks don't really do anything different. Most of the focus is about limiting distractions and getting familiar with the new surroundings — which Beaty said would be done on game day, a few hours before kickoff — and continuing to worry about the things the Jayhawks can control. Added defensive coordinator Clint Bowen: "Usually, on the defensive side of the ball, the crowd noise is not gonna be a problem. That's not when it gets loud there. I really don't see any difference. You just have to make sure they stay focused. You've got the hecklers behind you. That's about it. As long as you can ignore those guys, there's usually not much difference."
3 . Win or lose, the execution of the little things must be better at all positions
One thing Beaty and his coaching staff discovered during the off week was that a majority of KU's mistakes that led to big plays by the opponents — on offense and defense — happened because of poor execution. Because of that, KU drilled the fundamentals over and over during its bye week and even installed some competitions designed to emphasize execution during practices. With an extra week to concentrate on such things and two games worth of film to see both the good and the bad of their own execution, it seems more than fair to expect the Jayhawks to play their sharpest game of the season against Rutgers.
---
Mega Matchup
Rutgers Special Teams vs. Kansas Special Teams
While these two teams have gotten off to a rough start in 2015, the one area in which they both have been pretty solid is special teams. KU special-teams coordinator Gary Hyman has significantly upgraded all of KU's special teams, and Rutgers for the third week in a row will throw a dynamic kick returner (Janarion Grant) at the Jayhawks. "He will be a challenge to stop," Beaty said of Grant. "Every week we've played a very explosive returner, and our guys have answered the bell. We've got to do a great job this week." In addition to focusing on Grant, Beaty pointed out Rutgers' strong history of being sound in the return game and in blocking kicks. If today's contest is close, the team that fares better in what many refer to as the "third phase of the game" could win. "It will be a great, great match-up between our special teams and their special teams," Beaty said. "We'll really get to see where we are this week because they do a really good job there."
---
5 Questions with senior defensive end Ben Goodman
1. Have you ever been to the Big Apple, and what comes to mind when you think of New York City?

"No, I have not. But I think big buildings, lots of traffic and a lot of taxi cabs. I'm actually looking forward to going to the East Coast. I've never been there before. I'm definitely ready to go see what Jersey's like and what New York's like."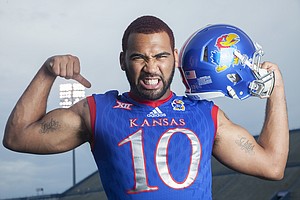 2. Where is the coolest place you've visited?

"I'd have to say Las Vegas. I've been a couple times, this summer and the previous winter. It's a pretty fun place. I went with my family members, and I actually saw (KU safety) Fish (Smithson) out there. I was 21 when I was out there, and I did win. Roulette and dice."
3. The Pope will be in New York City this weekend while you guys are playing across the river at Rutgers. You obviously won't be able to attend any of his events, but if you could pick one historical figure to hear speak, who would it be and why?
"Is (the Pope) coming to the game? I'm just kidding. To answer your question, though, I would love to hear Martin Luther King Jr. speak. He was a powerful speaker. He had a way with words. He spoke with a lot of passion and emotion. I would love to be sitting there or standing there just to hear how his words affected people."

4. How much do you think the issues Rutgers is dealing with — six players dismissed from the team, head coach Kyle Flood serving a three-game suspension — can help Kansas this week?
"We hear about it, but we're really not that focused on it. That's not the focus for us. We're just trying to go be the best players we can be and the best team we can be and execute in the positions the coaches put us in."
5. You've been around here for five seasons now and have played in or witnessed 28 of the 33 losses in the current 33-game losing streak. What's your take on the streak, and how much of a factor has it been in your preparation this week?
"We just have to get off to a fast start and finish throughout the game on all three phases — offense, defense and special teams. We just have to continue to trust our training and be as good as we can be, and we'll have fun on the way back on the plane."
---
Jayhawk Pulse
After the Week 1 loss to South Dakota State, fans, coaches and players at KU still seemed somewhat encouraged and optimistic about the state of the program. That was not the case following the Jayhawks' Week 2 loss to Memphis in which KU jumped to a 10-0, first-quarter lead only to get outscored and outclassed 55-13 during the final 3 1/2 quarters. The loss, which featured a subpar showing from KU's offense and 651 yards allowed by the Kansas defense, hammered home that this team still has a long way to go and a lot of work to do before it can expect to be competitive with anybody. The turmoil and chaos surrounding the Rutgers football program — coach suspended, six players, including their top offensive threat, dismissed from the team — have given many KU supporters hope that the Jayhawks have a legit shot this week to both pick up a win for Beaty and snap a 33-game losing streak away from Lawrence. But until the defense proves it can stop somebody and the offense finds some consistency, it's hard to imagine things changing that drastically that quickly.
---
Tale of the Tape
KU run game vs. Rutgers run D — edge: Kansas
KU pass game vs. Rutgers pass D — Push
Rutgers run game vs. KU run D — edge: Rutgers
Rutgers pass game vs. KU pass D — edge: Rutgers
Special teams — Push