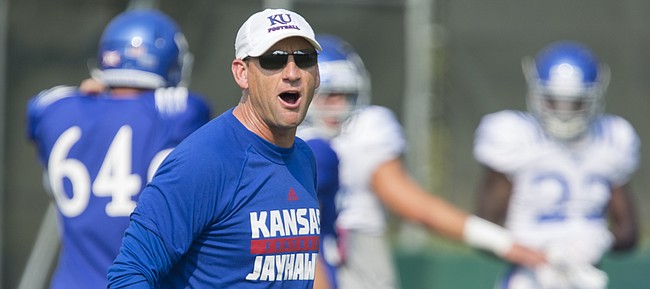 The Kansas University football program was back on the practice field Tuesday, preparing for Saturday's road game against Rutgers and armed with some fresh material with which to work.
While much of last week's bye was spent resting and watching game film in an attempt to improve, both as individuals and as a team, the break from game week also involved a lot of sweat and even a little competition.
"I don't know why they call it an off week," senior defensive end Ben Goodman joked Tuesday. "It wasn't. We definitely put in a lot of work these last two weeks and I think we're very prepared."
Podcast episode
First-year Kansas football coach David Beaty talks with media members about what the Jayhawks addressed during their bye-week work, and the preparation involved for KU's first road game of the season, at Rutgers.
That remains to be seen, but first-year head coach David Beaty said he believed the week off was good for his team because it provided time to analyze the things that plagued the Jayhawks during their 0-2 start and also presented the chance to do something a little different. The idea behind last week's teaching methods, which Beaty referred to as "unique," was to continue to foster a competitive environment while emphasizing "accurate execution."
"We tracked everything," Beaty said. "(From missed assignments), technique issues, loafs, hand placement, every detail that comes down to executing their job correctly, we tracked it. Every time there was an inability to execute that correctly, we tracked that. We kept that and we logged an up-down for each one of those mistakes."
The idea, Beaty said, was to perform so flawlessly that by the end of practice there were no up-downs to run. That goal was not reached last Monday, but the Jayhawks got there the following day.
"We created very specific competitions that had to do with things we needed to improve in, like accuracy from our quarterbacks," Beaty explained. "We put those guys through accuracy competitions that would allow them to gain up-downs back for their team, so they kept playing. If our punters were able to directionally punt successfully and put the ball where we wanted to kick, so we could cover effectively, they would be able to gain up-downs for their team. Field goal kickers, same thing. We tried to make it fun (and) they really enjoyed that and it kind of kept them going and kept them practicing."
Last week's practices, which included at least a little peek ahead to this week's opponent, even included guys having fun in positions and situations that they don't normally find themselves.
"We had a big man red zone seven-on-seven (drill) between the offensive linemen and the defensive linemen," Beaty said. "Even our coaches got involved. We got some accuracy throws. I won't tell you how those went.... I thought (the competitions were) one of the best things our coaches came up with: How do we track the issues that we're having, but still motivate them to continue to play the next play."
Beaty said having a tool to measure the progress throughout the week inspired the Jayhawks to stay engaged during the off week, which included intense practices Monday, Tuesday, Wednesday and Saturday and lighter workouts the other days.
"Technique, alignment, assignment, all the details that go into accurately executing, that was a big deal," Beaty said. "We wanted to do more than just get through it."
Rutgers chaos a plus?
Beaty was asked Tuesday how the situation surrounding Rutgers' dismissal of six players and the suspension of head coach Kyle Flood impacted the Jayhawks' preparation for Saturday's game.
"Zero," Beaty said. "I mean, they've got a great staff over there. He does a really good job. He's been very productive there. They've won a bunch of games. They put a ton of guys in the NFL. They have got really good talent over there.... Those guys did not look different to me (on film during last Saturday's loss at Penn State)."
Glatczak a starter
After playing as a reserve in KU's secondary during the Jayhawks' season opener, senior walk-on Michael Glatczak started at safety against Memphis and remains in the starting lineup this week.
Beaty confirmed Glatczak's status Tuesday, saying simply, "Michael Glatczak has taken over as a starter for us," which completes the Centralia native's feel-good rise from injuring former No. 1 QB Michael Cummings in the spring game to contributing for his team's defense in the fall.
"The fruits of people's labor have benefited them," Beaty said. "It's going to continue to happen this week."
Glatczak has recorded eight tackles and one fumble recovery so far this season.
Injury update
Wide receivers Bobby Hartzog Jr. (concussion) and Joshua Stanford (ankle) were back on the practice field Tuesday and Beaty said he hoped both would be able to play this weekend.
It sounded like Hartzog is close to fully healed while Stanford, who injured his ankle during the first half of KU's loss to Memphis on September 12, was dubbed a game-time decision.
Fellow receiver Jeremiah Booker remains out.