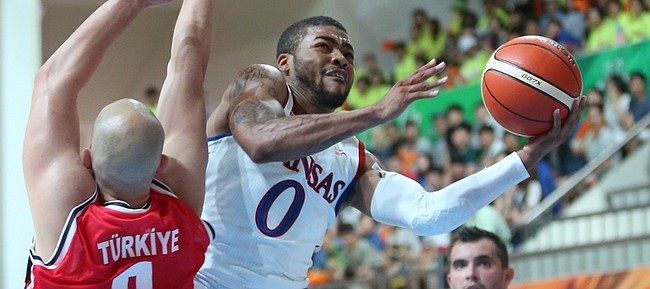 Even somebody as finely-tuned and well-conditioned as Frank Mason III has to prepare himself mentally for Bill Self's Kansas University Basketball Boot Camp.
"You just have to get in your mind to work hard, grind hard and just be ready to get through the day," said KU's junior point guard from Petersburg, Virginia, who has made it through the first three Boot Camp conditioning sessions with today through Friday workouts still on tap.
"It's tough but you just have to think positive and you'll get through it."
Running, jumping and performing defensive slides and backboard touches for more than an hour non-stop early in the morning is designed to get the Jayhawks in shape for the start of practice on Oct. 2.
Conditioning generally is not a problem for Mason, who averaged 33.5 minutes a game his sophomore season at KU and followed that with 32.2 minutes per outing at the eight-game World University Games in July.
Mason, who also played 32 and 35 minutes in a pair of exhibitions vs. Canada, actually took some coach-ordered time off following the Games.
"I did a lot of recovery with Hudy," the 5-11, 185-pound Mason said of strength coach Andrea Hudy. "I still got in the gym, got up shots, ballhandling, a little conditioning. I just tried to stay fit, do what I usually do. That's what I did."
Mason and his teammates have been playing in pick-up games since the start of first semester classes the third week of August.
"Everyone so far," Mason said, asked which players have been faring well. "Everyone shoots the ball pretty well throughout the practices and individual workouts we have (two hours a week in accordance with NCAA rules). I'd say everyone has improved."
Of first-year Jayhawks Carlton Bragg, Dwight Coleby, Cheick Diallo, Lagerald Vick and walk-on Clay Young, Mason said: "They are hard workers. They never stop trying. Even when they are doing drills wrong, they want to learn and want to get better."
Of Mason, 13th-year KU coach Self said: "He had a fabulous year last year (12.6 ppg, 3.9 apg, 3.9 rpg). He may have gotten a little tired late. We rode him pretty hard during the season, especially when Devonté (Graham) got hurt (and missed six straight games).
This summer, we saw at game point, when it counted the most, we've got a little bulldog right here," he added of Mason who came up big down the stretch of several World University Games contests in which he averaged 14.5 ppg, 5.6 rpg and 4.4 apg. "He was a poodle when he got here. Now he's up to a bulldog."
Recruiting: Self and assistant Norm Roberts went recruiting after Tuesday's Boot Camp session. They checked in on DeAaron Fox and Trae Young, Jayhawkslant.com reports. Fox, a 6-3 senior point guard from Cypress Lakes in Katy, Texas, is ranked No. 5 in the Class of 2016 by Rivals.com. Young, a 6-1 junior point guard from Norman (Oklahoma) North, is ranked No. 26 in the Class of 2017.