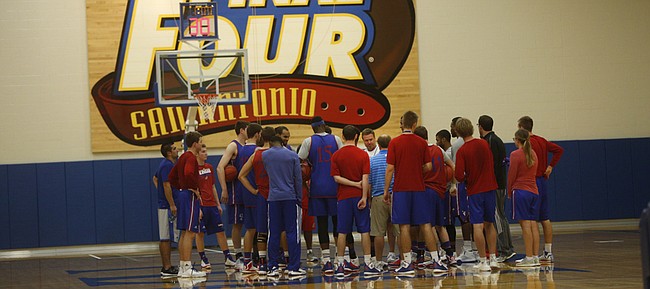 Kansas University basketball coach Bill Self walked through the northwest tunnel of Allen Fieldhouse toward the locker room with a frown on his face following Thursday's 21⁄2-hour practice.
"We're stale. We've been stale. We haven't practiced very well the last week or so," Self said. "We're very careless. It's hard to play when you turn the ball over every possession, it seems like. I don't think anybody's leaving out of practice thinking we've gotten better the last week. I don't think that's the case at all."
Not every day the past week has been as sub-par as Thursday.
"We've had good days, but we're too inconsistent," said Self, whose squad has been practicing since Oct. 2. "We'll have good days, then we'll have days where we turn that ball over left and right. The biggest thing that's disappointing to me is our decision-making."
His Jayhawks will meet Pittsburg State at 7 p.m. Wednesday in Allen in the first of two preseason games.
"We haven't got that much in," Self said of specific plays. "We've got in zone. We've got in a press. We got in some out-of-bounds plays. We got in enough, I think, to play in an exhibition, but we don't have that much in."
Of the team's health, he said: "Actually good. We've got a few guys that are nicked up, but not nicked up enough to miss practice."
Self's spirits did brighten a bit Thursday when asked about the Kansas City Royals. Yes, he attended the first two games of the World Series — a 5-4, 14-inning KC win over the New York Mets on Tuesday, followed by a 7-1 Royals victory Wednesday.
"It's great what they are doing," Self said. "It's a great example for everybody, (that) it's never over 'til it's over. Guys just keep battling. Some player on the team usually picks up everybody else.
"It's great for, obviously, Kansas City and the surrounding communities to have the focus of America be on those guys," he added of the Royals.
Diallo update: Self said he's not expecting any NCAA decision on Cheick Diallo's eligibility case heading into the weekend.
One of Diallo's former Our Savior New American High teammates, Kobie Eubanks, was cleared to play second semester of the 2015-16 season, Zagsblog.com reported Friday.
Eubanks will enroll at Texas A&M;, Baylor or Georgetown for second-semester classes.
"I think things like that are positive. I'm unaware of any details on him," Self said. This means all of Diallo's teammates (from OSNA in Centereach, New York) to earn major-college scholarships have qualified for college scholarships.
Self had nothing else to say on the Diallo eligibility matter.
Clinic starts: Self today welcomes about 150 coaches to Lawrence for his annual coaching clinic.
ESPN's Fran Fraschilla, former head coach at St. John's, New Mexico and Manhattan, will be in town to speak to the coaches as well as Self and all members of his staff.