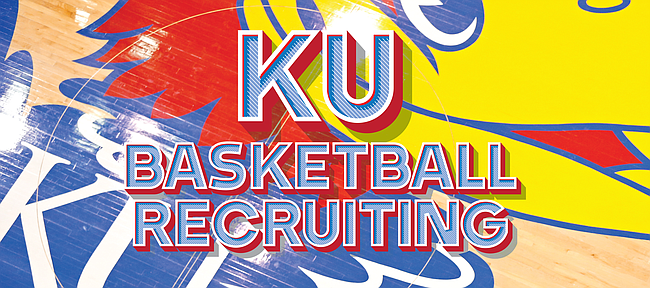 A Sunday article in the Los Angeles Times figures to give Kansas University's basketball staff some recruiting material as the Nov. 11-18 early-signing period nears.
KU basketball, the newspaper reported, is tied with UCLA nationally in producing the second-most NBA players since high school standouts were forced to attend college one year (starting with the 2006 NBA Draft).
The Jayhawks and Bruins have sent 18 players to the NBA in the so-called "one and done era," trailing Kentucky (23) by five players. Duke, North Carolina and Syracuse followed by shipping 17, 15 and 14 players to the NBA in that nine-year span.
Ken Pom speaks: Kenpom.com, which specializes in using an abundance of stats in making its rankings and observations, has KU fourth in its preseason Top 25. In an interesting twist, Maryland, which tops some polls, is listed No. 24 by Ken Pomeroy.
The Kenpom.com Top 25: Duke, Kentucky, Virginia, KU, Villanova, Arizona, North Carolina, Gonzaga, Wisconsin, Baylor, Oklahoma, Utah, Indiana, Cincinnati, Wichita State, Notre Dame, Michigan, Michigan State, Iowa State, Vanderbilt, Miami, Purdue, SMU, Maryland, Louisville.
Giles' final visit coming: Harry Giles, the No. 2-rated player in the recruiting Class of 2016, makes his fifth and final recruiting visit — to Duke — this weekend.
Giles, a 6-foot-10, 220-pound senior from Oak Hill Academy in Mouth of Wilson, Virginia, has already been to KU for Late Night in the Phog and Kentucky for Big Blue Madness. A native of Winston-Salem, North Carolina, he has also visited Wake Forest. He recently canceled a visit to University of North Carolina.
Oak Hill coach Steve Smith told Zagsblog.com that Giles will announce for a school either Nov. 12 or 13 on ESPNU or in Winston-Salem when Oak Hill plays in the Phenom Hoop Classic on Nov. 13-14.
Bolden decision looms: It remains to be seen if No. 16-ranked Marques Bolden, a 6-10 senior forward from DeSoto (Texas) High, will wait for Giles to pick a school or commit first. Bolden has visited KU, Kentucky, Duke and Oklahoma and made an unofficial to Alabama. He's also considering Baylor, TCU and Wake Forest. Bolden has yet to say for sure whether he'll sign early or late.
Allen to visit UK soon: No. 20-ranked Jarrett Allen, a 6-9 senior forward from St. Stephens Episcopal School in Austin, Texas, visited KU last weekend and will visit Kentucky this upcoming weekend. He's also made an official visit to Notre Dame and is also considering Houston, Indiana, Kansas State, North Carolina and Texas. Allen averaged 21.4 points, 13.3 rebounds and 4.3 blocks last season and was named the Austin American-Statesman's all-Central Texas player of the year.
It seems nobody has a firm read on Allen's recruitment, except Allen himself.
"He's not overly active on social media and often spends as minimal amount of time as possible on the phone with college coaches during the time allotted by the NCAA. It's common for a text from a college coach to go unanswered for days, sometimes even weeks," writes Tom Noie of the South Bend Tribune.
"He's a very unique individual," Allen's AAU coach, Marland Lowe, told the South Bend Tribune. "But that's just him. He's all about winning. He's a quiet guy on the outside, but he cares. He's passionate about the game on the inside. He's just not a rah-rah guy."
All's quiet on Herard front: Schnider Herard, a 6-10 senior forward from Prestonwood Christian Academy in Plano, Texas, who is ranked No. 34 nationally, has visited KU, Mississippi State, Purdue and Texas Tech. He has said he will take a final visit to a yet-to-be-determined school and will sign in the early period.
Azubuike visits UNC: Udoka Azubuike, a 6-11 senior forward from Potter's House in Jacksonville, Florida, who is ranked No. 27 nationally, visited North Carolina last weekend. He's also visited KU, Florida State and North Carolina State and will decide in December. One more visit figures to take place.
"We are going to talk and figure out the last one, as there are three schools in consideration (for visit)," Harry Coxsome, mentor of Azubuike, told northcarolina.rivals.com.
Of the UNC visit, Coxsome told Rivals.com: "I think one of the biggest things was just how big of a school it is and how big of a network the alumni have there. There have been a lot of guys go on to the NBA from North Carolina and some guys that have gone on to become NBA analysts and things like that. I know some of the other schools have that too, Kansas is one of them, but I'm not sure anyone has the network as big as North Carolina's."