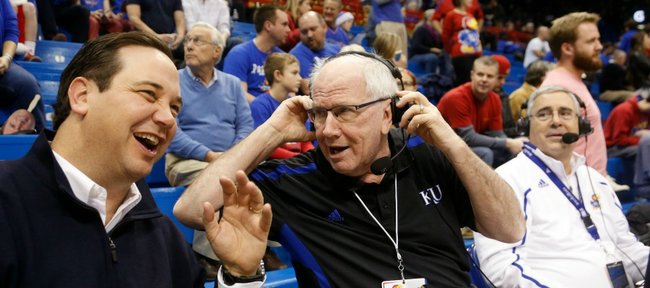 Lahaina, Hawaii — Bob Davis, who for 32 seasons has been play-by-play voice of Kansas University football and men's basketball, has announced he will retire following the current hoops season.
What that means is Saturday's Kansas-Kansas State football game will be his last football broadcast for the Jayhawk Radio Network. He'll remain on board broadcasting basketball through the final game of 2015-16.
"I've had a chance to know Bob since 1985, but to actually work with him for the last 121⁄2 years, there is nobody, in my opinion, who is any better associated with the University of Kansas at doing their job than what Bob Davis is doing his," KU basketball coach Bill Self said. "He'll be missed. Not only is he good at his job, he's a terrific person. He's fun and has become a very dear friend. I'm happy for him from a retirement standpoint so maybe he can enjoy those grandkids a little bit more, which I know is important for him and (wife) Linda, but certainly he will be missed."
Podcast episode
Prior to KU's tip-off against UCLA in Maui, broadcaster Bob Davis talked about his career and announcing his retirement, which will come at the end of the 2015-16 college basketball season.
Davis, who teamed with Max Falkenstien for 22 years and currently works with football analyst David Lawrence and basketball analyst Greg Gurley, started with the Jayhawk Radio Network in fall 1984.
He has broadcast eight of the Jayhawks' 14 NCAA Final Four appearances, including KU's 1988 and 2008 national championships and half of KU's 12 football bowl games, including the Jayhawks' victory in the 2008 Orange Bowl. He has also served for many years as host of the weekly radio show "Hawk Talk," featuring the Jayhawk football and basketball coaches.
A graduate of Topeka West High and Washburn University, Davis also spent 16 years working Fort Hays State University football and basketball. He also broadcast KC Royals games for 16 seasons.
"I've been really lucky to be the 'Voice of the Jayhawks' for 32 years," Davis said. "It was a dream job for me when it happened. I had a wonderful first job out in western Kansas at Hays; 16 years there with college and high school sports and a lot of baseball.
"Then to come to Lawrence and be able to follow the Jayhawks — bowl games, eight Final Fours and some terrific moments, seeing a team win an Orange Bowl and two national (basketball) championships and three other national championship games.
"But the people are what made it amazing. All the people I've been able to get close to — great players, the coaching staffs, administrators. I'm going to miss it a lot, but it's been really fun. I've also been able to tack on a little baseball on the other side and do that, too, was a dream come true. It's been a real lucky situation for me."
Davis said "it seemed to be natural," to announce it halfway through the sports year.
"I talked about doing it last year. They kind of talked me out of it a little bit. The numbers are good. This is 32. I did Fort Hays for 16, the Royals for 16, worked for KMBZ 20 years, so it's a good, round number. I've had a lot of fun. I've tried to talk Bill into making this thing go into April to make this go as long as possible. He doesn't seem opposed to the idea," Davis added, smiling.
He noted that some of his personal highlights have included: "Reesing to Meier, the chop play, Manning at the line late in the ballgame."
Noted KU athletic director Sheahon Zenger of Davis, who won Kansas sportscaster of the year 13 times: "Bob Davis is an institution in the state of Kansas, and we thank him for everything he's meant to KU. Jayhawk fans here and around the country have grown up listening to Bob and consider him a member of their family. We at KU will always consider Bob part of our family."
Davis is married to Linda Michaelis. They have a son, Steven; a daughter-in-law, Katie; two grandsons, Landon and Will, and a granddaughter, Millie.
A nationwide search for Davis' successor will begin in the spring. Interested candidates for this position should direct their inquiries to Chris Ferris at IMG College via the following email address: Chris.Ferris@img.com.
---
---
---
More news and notes from Kansas vs. UCLA
---