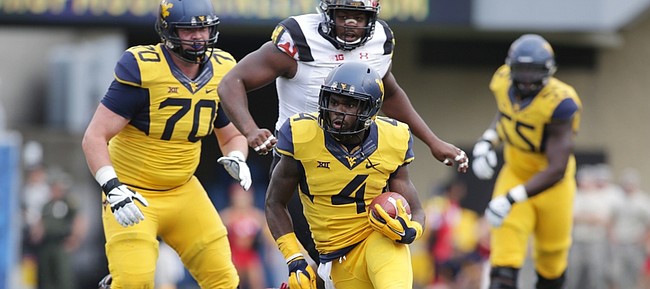 Three years ago, during the final game of the 2012 season, West Virginia quarterback Geno Smith and a lightning-fast group of receiving weapons lit up the Kansas University football team for 407 yards of offense on 23-of-24 passing in a 59-10 rout.
Three WVU receivers hauled in double-digit receptions, and four caught touchdowns that day.
Last season, a similar onslaught ensued in Morgantown, where WVU drubbed KU, 33-14, and again racked up nearly 600 yards of total offense.
Those performances, and many others like them, were exactly the kind of aerial assault that Big 12 fans have come to expect from the vaunted Air Raid offense employed by WVU coach Dana Holgorsen.
But as the Mountaineers (5-4 overall, 2-4 Big 12) prepare to take on winless Kansas (0-10, 0-7) at 11 a.m. Saturday at Memorial Stadium, Holgorsen brings with him a much different offensive attack.
The Mountaineers rank eighth in the Big 12 in passing offense — one spot behind Kansas — and junior quarterback Skyler Howard ranks just seventh in the conference in pass efficiency.
The reason? Holgorsen knows what he has in running back Wendell Smallwood, and he's not afraid to use him.
"He's known as an Air Raid guy, and we all think that that's throwing the ball all over the place," KU coach David Beaty said of the WVU coach. "But the thing I love the most about Dana is he is going to do what he has to do to help his team win."
Of late, that has been handing the ball to Smallwood, who ranks second in the conference with 124.3 rushing yards per game.
"He's the go-to guy right now, obviously," Holgorsen said Monday morning. "We're gonna get him as many carries as he can handle. There are some guys who have expressed their displeasure with us not giving him the ball every time we snap it. The reality is, you can't do that, so he's gonna get whatever he can handle."
It's not just the running back who has transformed West Virginia into a run-first type of team. Howard also has shown a strong ability to gain yards on the ground. The junior QB has recorded a rushing touchdown during WVU's recent Big 12 winning streak and enters this week as the Mountaineers' third-leading rusher.
"The thing I've noticed as I've watched this team this year is what a good runner this quarterback is," Beaty said. "And (Holgorsen) has done a nice job of creating different ways to run QB power, and he'll do it out of a bunch of different formations. I really like watching this cat run the football when I'm not having to play him."
Sunflower Showdown set for 3 p.m.
The Big 12 Conference announced Monday morning that KU football's season finale, Nov. 28 at home against Kansas State, would kick off at 3 p.m. and be televised by FOX Sports 1.
That game will mark KU's sixth appearance on FS1 this season.
KU leads the all-time series with KSU, 65-42-5, including a 37-17-2 mark in games played in Lawrence. But the Jayhawks enter the 2015 finale having dropped six consecutive contests to Kansas State, including three-straight in Lawrence.