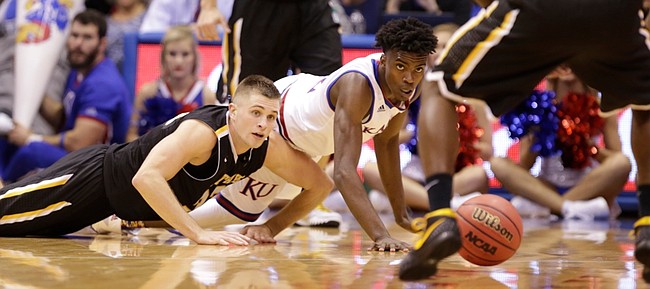 There's one topic currently off limits in Kansas University's basketball locker room: It's next week's trip to Chicago for a Champions Classic matchup between No. 4-ranked KU and No. 13 Michigan State.
"I tried to talk to Jamari about it. He said, 'Just focus on one game at a time,''' said KU freshman forward Carlton Bragg.
Senior leader Jamari Traylor wasn't about to discuss a game to be held Tuesday when there's one against Northern Colorado to be contested tonight. Tip between the Jayhawks and Bears is 7 p.m., in Allen Fieldhouse.
"He's just got to think about one game at a time and getting better day by day. That's coach's mindset, my mindset, how anybody's mindset should be," Traylor said. "You can't overlook anybody at any point in time."
Podcast episode
Kansas basketball coach Bill Self meets with media members Thursday afternoon at Allen Fieldhouse to discuss the Jayhawks' season opener. But it didn't take long for the talk to turn toward freshman big man Cheick Diallo. Self discusses the freshman's impact at length and remains confident Diallo will play for ...
Bragg, a 6-foot-9 forward from Cleveland, actually is fired up about today's season opener against a Big Sky team that returns two starters off last year's 15-15 squad that placed fifth in the 12-team league.
"I can't wait," Bragg said Thursday. "Going to weights today I was kind of nervous, just trying to get my mindset ready for the big game."
He said it has a different feel than KU's two exhibition games. "Yes, because I'm nervous to mess up. It's just a lot at stake right now. I want to show everybody what I got the first time in a real game," Bragg said.
KU coach Bill Self said jitters are natural in openers.
"I think Perry (Ellis, senior) will be nervous. I think Frank (Mason III, junior) will be nervous. I think they think they should be a little nervous," Self said. "Even though the exhibition games have been good (wins over Pittsburg State and Fort Hays State), we were exposed in the first exhibition game on a lot of things. The second one we were a little bit better. But this will be a whole different ballgame starting Friday, and certainly a totally different feel come Tuesday."
This, that: Self said Traylor would likely start with Ellis, Mason, Wayne Selden, Jr., and Devonte Graham. ... Self said no Jayhawks would red-shirt this season. ... Of Brannen Greene, whose surgically repaired hip kept him from playing in Tuesday's exhibition, Self said: "It's going to be one of those things that our doctors and trainers tell us it's going to take a year for him to probably be 100 percent. Even though there's not anything structural, he'll experience tightness, soreness, that type of stuff. But I anticipate him being fine."
Diallo works hard: Diallo's presence at practice has certainly helped KU's team prepare for tonight.
"He brings energy and effort. We build off his energy," Bragg said. "Blocking shots, running the floor, that builds a lot of energy toward the team. We play harder when he does that."
Noted Self: "He changes practice every day because he tries so hard. If other guys don't try, they can't keep up from an effort standpoint. He's one of the best role models we've had because nobody, nobody, since I've been here for 13 years tries harder academically than he does. Nobody."
Know the foe: Northern Colorado is coached by B.J. Hill who is in his sixth season as head coach, all at the Greeley school, with a 76-77 record. ... Picked to finish sixth in the Big Sky by the media, seventh by the coaches, UNC's roster features four players 6-7 or taller. Junior guard Cameron Michael and redshirt sophomore center Jeremy Verhagen are the two returning starters from last season. Michael averaged 12.9 ppg and made a team-high 66 three-pointers, while Verhagen averaged 3.2 ppg. Junior guards Jordan Wilson (8.8 ppg, 2.3 assists per game) and Anthony Johnson (3.5 ppg) along with junior F Jon'te Dotson (1.4 ppg) are also back. UNC has nine newcomers on its roster which includes six non-freshmen.
Probable Starters
NORTHERN COLORADO
F — Jeremy Verhagen (6-10, Soph.)
G — Cameron Michael (6-5, Jr.)
G — Jordan Wilson (5-7, Jr.)
G — Anthony Johnson (6-2, Jr.)
G — Jon'te Dotson (6-3, Jr.)
KANSAS
F — Perry Ellis (6-8, Sr.)
F — Jamari Traylor (6-8, Sr.)
G — Frank Mason III (5-11, Jr.)
G — Wayne Selden Jr. (6-5, Jr.)
G — Devonté Graham (6-2, Soph.)
Roster
NORTHERN COLORADO
0 — Jordan Davis, 6-2, 185, Fr., G, Canyon Springs, Nevada.
2 — Cameron Michael, 6-5, 185, Jr., G, Loveland, Colorado.
4 — Tyler Loose, 6-0, 180, Soph., G, Laramie, Wyoming.
5 — Jamal Evans, 6-7, 205, Jr., F, St. Petersburg, Florida.
10 — Ibrahim Sylla, 6-8, 220, Fr., F, Denver.
11 — Spencer Mathis, 6-7, 195, Soph., F, Las Vegas.
12 — Jonah Radebaugh, 6-2, 165, Fr., G, Thornton, Colorado.
13 — Chaz Glotta, 6-2, 170, Soph., G, O'Fallon, Missouri.
15 — Miles Seward, 6-3, 175, Fr., G, Toronto, Ontario, Canada.
20 — Tanner Morgan, 6-9, 230, Jr., F, Salem, Oregon.
24 — Anthony Johnson, 6-2, 190, Jr., G, Indianapolis, Indiana.
25 — Jordan Wilson, 5-7, 155, Jr., G, Los Angeles.
30 — Jon'te Dotson, 6-3, 185, Jr., G, Denver.
33 — Jeremy Verhagen, 6-10, 220, Soph., F, Florence, Arizona.
40 — Kenny Lesley, 6-8, 215, Fr., F, Elsberry, Missouri.
55 — Dallas Anglin, 6-1, 185, Jr., G, Montclair, New Jersey.
Head coach: B.J. Hill. Assistants: Joel Davidson, Will Hensley, Eric Murphy.
KANSAS
0 — Frank Mason III, 5-11, 185, Jr., G, Petersburg, Virginia.
1 — Wayne Selden, Jr., 6-5, 230, Jr., G, Roxbury, Massachusetts.
2 — Lagerald Vick, 6-5, 175, Fr., G, Memphis.
4 — Devonté Graham, 6-2, 175, Soph., G, Raleigh, North Carolina.
5 — Evan Manning, 6-3, 170, Sr., G, Lawrence.
10 — Sviatoslav Mykhailiuk, 6-8, 195, Soph., G, Cherkasy, Ukraine.
11 — Tyler Self, 6-2, 165, Jr., G, Lawrence.
13 — Cheick Diallo, 6-9, 220, Fr., F, Kayes, Mali, Africa.
14 — Brannen Greene, 6-7, 215, Jr., G, Juliette, Georgia.
15 — Carlton Bragg, Jr., 6-9, 220, Fr., F, Cleveland.
21 — Clay Young, 6-5, 205, Soph., F, Lansing.
22 — Dwight Coleby, 6-9, 240, Jr., F, Nassau, Bahamas.
31 — Jamari Traylor, 6-8, 220, Sr., F, Chicago.
33 — Landen Lucas, 6-10, 240, Jr., F, Portland, Oregon.
34 — Perry Ellis, 6-8, 225, Sr., F, Wichita.
42 — Hunter Mickelson, 6-10, 245, Sr., F, Jonesboro, Arkansas.
Head coach: Bill Self. Assistants: Kurtis Townsend, Norm Roberts, Jerrance Howard.