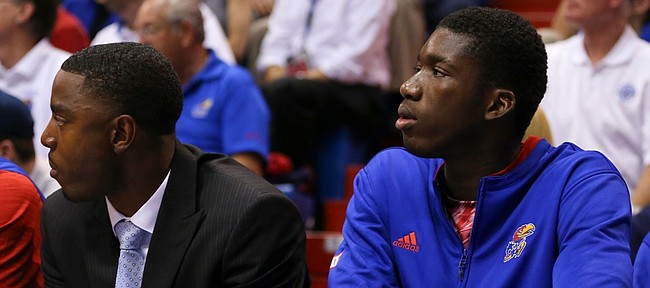 Another day in the ongoing saga of Cheick Diallo's quest for eligibility came and went Thursday, and a news conference scheduled to preview tonight's regular season opener at Allen Fieldhouse against Northern Colorado quickly turned into the latest dose of your daily Diallo update.
The whole thing happened rather organically, and, to Kansas University basketball coach Bill Self's credit, did not come across as a premeditated attempt to put pressure on the NCAA by talking about the Diallo debacle non-stop until the folks at the NCAA get so tired of hearing about it that they move him through just to get things over with.
Sure, if there were some sort of system in place where a filibuster on behalf of Diallo and the Jayhawks would make a difference, you can bet KU would have people lined up to talk the way the students line up to get into the fieldhouse prior to game days.
But it doesn't work that way. And Self knows it. So he leaves the pressuring part of the equation to the outsiders and moves forward with faith that the process will work. Sometimes it does and other times it doesn't. But when it comes to college students and the opportunities they receive, both as students and as athletes, sometimes isn't good enough.
College hoops analysts Jay Bilas and Dick Vitale, among others, have been more than happy to call out the NCAA for its mishandling of the situation. And they're right. It's time for Diallo to be cleared and this whole mess to be over.
Podcast episode
Kansas basketball coach Bill Self meets with media members Thursday afternoon at Allen Fieldhouse to discuss the Jayhawks' season opener. But it didn't take long for the talk to turn toward freshman big man Cheick Diallo. Self discusses the freshman's impact at length and remains confident Diallo will play for ...
But you won't hear so much as a hint of negativity coming from Self about the process, the delay or even the possibility that Diallo still might be ruled ineligible this season. Because Self gets it. And he gets it because he's been through it plenty during the 13 years he's been at Kansas.
Former three-star prospect Braeden Anderson was deemed ineligible because of a Big 12 rule and never suited up for the Jayhawks. The Morris twins were not cleared until the third week of the fall semester during during their freshman seasons. Jamari Traylor and Ben McLemore both missed the 2011-12 season because of issues in their academic past and the Cliff Alexander fiasco dragged on far too long a season ago.
In each case, whether the outcome was good or bad, Self spoke about "the process" working and always kept the focus on the young man in question. The same thing is happening here, but, this time, Self seems a little more disheartened for Diallo because of the circumstances surrounding his decision to leave Africa, and eventually to come to Kansas.
"If we can't understand it, certainly he can't understand it," said Self of the 6-foot-9, 220-pound freshman forward. "Because all he knows is, 'I grew up in Mali, I left my family to come over here to live out a dream, I went to a good school and now they're saying I can't play because of the (prep) school I went to.'"
Self said Diallo, who went long stretches in the past three years without even speaking to his family because of the cost of phone calls home, had "been great" in terms of handling the situation and added that the freshman forward was "frustrated beyond measure" and checked in every day to see if any new news had surfaced.
Like Diallo, Self is frustrated, too, but not because he needs his five-star forward to have a chance at a national title this season. Kansas is plenty good with or without him.
As Self said Thursday, if Diallo is ruled ineligible, life will go on. For Kansas. But it's what will become of Diallo that disappoints Self the most. And that's the reason so many young men and their families elect to sign with the Jayhawks.
"It's not about whether Cheick makes us better," Self said. "Would he? Yeah. Sure he would. Over time. And that's great. But (this is) about an individual.... This would be big for KU, but it wouldn't be near as big for us as it would be for him."
Call that insincere or a cover if you want. But listen to it with your own ears, see it with your own eyes and you'd probably be singing a different tune.
Self does not say what he does not mean. Never has. And while he might be frustrated by the way the Diallo situation has dragged out, it's the rules he has issue with, not the people enforcing them or the process to deliver the right ruling.
"There's no bad people," he said. "Nobody's done anything wrong (or is) trying to say 'We're out to get somebody.' Nobody believes that.... But you've gotta have rules, you've gotta have policy. We understand that. It's just frustrating when maybe all the things that needed to be done haven't been done to maybe have a true evaluation of the situation because of policies."