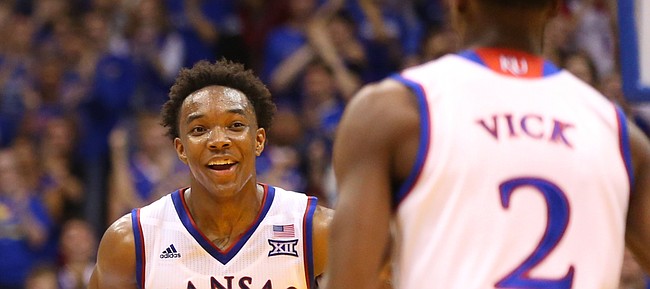 Devonté Graham had problems putting the ball in the basket in Kansas University's exhibition opener against Pittsburg State on Wednesday in Allen Fieldhouse.
The 6-foot-2 sophomore guard, who hit just one of six shots (1-for-5 from three) and four of six free throws, did everything else well, however. He grabbed eight rebounds and had eight assists to go with his seven points, meaning he actually flirted with a triple-double in KU's exhibition debut.
"Playing hard, trying to help the bigs rebound. Of course, trying to find open teammates," Graham said of what he was trying to accomplish in his 28 minutes. "Them (teammates) knocking down shots and running in transition definitely helped with some of those assists."
KU hit four of 19 threes for 21.1 percent, but did convert 31 of 53 two-point tries for 58.5 percent.
"We had some (baskets) in transition," Graham said. "A lot of people can't guard somebody like Wayne (Selden Jr., five points, 2-of-9 shooting) in transition, him coming at you with a full head of steam, me pitching up the floor to him. Or (pitching) to Frank (Mason III, 14 points), Perry (Ellis, 22 points), Carlton (Bragg, 14 points), Jamari (Traylor, 9 points). It gives us a chance to get easy buckets."
Brannen Greene and Svi Mykhailiuk were 1-of-6 combined from three.
"One of the things we talked about was not making shots," Graham said. "Coach (Bill Self) was telling us we'll have games we don't shoot the ball well. It was one of those nights. We're not going to make all the shots we take. In Big 12 play, if we're not making shots, we've got to guard. We try to come out and play more aggressive on the defensive end."
KU did hold the Gorillas to 28.2 percent shooting. Pitt State hit seven of 22 threes for 31.8 percent.
"We've got to do a better job of sliding our feet and keeping guys out of the paint and on switches and stuff like that with the bigs," Graham said. "We've got to communicate and try to keep guys out of the paint."
Graham and the 5-11 Mason played together for much of the game.
"You never know with coach. He could play big with just one guard or both of us to keep us attacking. We've just got to be aggressive when we're both in there," Graham said.
Graham had a hand in one of the most spectacular plays of the opener. The Raleigh, North Carolina, native dribbled fast past halfcourt and at three-quarter court lobbed to senior forward Hunter Mickelson, who, storming in from the right wing, flushed a dunk.
"I love when the big guys run. You've got to reward 'em when they are running the court like that. That's why I was excited," Graham said. "He (Mickelson) definitely sparked us, protecting the rim, getting putback dunks, running the floor (en route to 10 points, six boards, four blocks). I'm not sure he made a jump shot or not. He can definitely do that, too. He played real well for us."
As did freshman frontcourt player Bragg, who had six boards to go with his 14 points.
"Not much of a surprise because we've been practicing with him since the summer," Graham said. "He was all over the place, energetic and excited to play, and it showed."
KU will meet Fort Hays State at 7 p.m. Tuesday in Allen Fieldhouse.